Imagine a display technology so vivid with rich colors, strong contrasts, sharp blacks, immersive wide angle viewing, power saving efficiency, and technology so thin and pixels so close to the surface, you can essentially walk around to any point in your room and never compromise on contrast.
Meet Organic Light Emitting Diode (OLED), which most refer to as Organic LED. OLED is the predicted technology wave of the near future that will soon give our viewing experiences a major glow up. In fact, they have already started incorporating this technology into TV monitors, VR headsets, mobile devices, and of course, computer monitors.
These new OLED computer monitors are slowly starting to make their way into the mainstream monitor and laptop display market. As technology continues to advance at high speeds, the idea of gaming on an OLED gaming monitor doesn't seem all that unrealistic. After all, they do have a higher response time and better display overall. This, of course, is a gamer's dream.
But gamers aren't the only ones who will benefit from upgrading to an OLED computer monitor. In fact, these monitors can aid in almost any profession from creative to corporate, but their incredible display also makes them fantastic for everyday use (especially if you're a big Netflix user – trust us on that one).
While there isn't much available today besides OLED TV monitors, we are willing to bet that these monitors will become overwhelmingly popular in the years to come. So if you're thinking about possibly getting in on an OLED computer monitor early? Here are the top 6 monitors for you to choose from on your way to finding the Best OLED Monitor 2022 has to offer.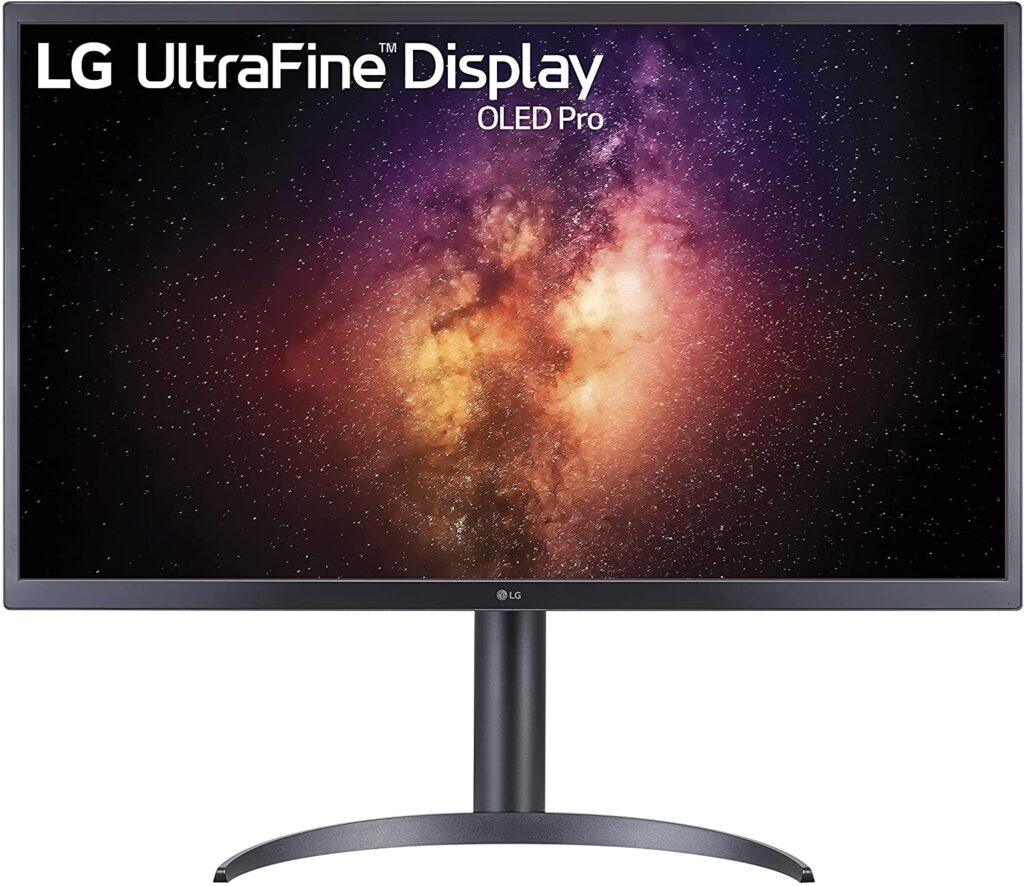 Kicking things off, we want to start with the LG 32ep950 Ultrafine Display OLED Pro Monitor. Brand new as of August 2021, this monitor has completely shocked the computer community with its high contrast, incredible response time, and gorgeous viewing image. This monitor is everything they hyped it up to be, and truly is the first of its kind.
This monitor is great for gamers, design professionals, and video/photography editors. With extreme clarity and a mind blowing 3840×2160 pixels, even the smallest details become eye catching, making every aspect of your work and play pixel perfect. In addition to this, the LG 32ep950 also includes wide color performance that supports that standard color modes for professionals, as well as many ports for optimized connectivity. 

Check Price
Yes, you read that right! A portable OLED monitor, great for travel if you still need quality image without having to worry about toting around your very large (and very expensive) OLED desktop monitor. This nifty little 4k OLD display device is great for professionals on the go and can connect to laptops, PC's, mobile devices, and any gaming console.
Did we also mention it's a touchscreen? This 10-point, secondary OLED monitor uses tap, swipe, and pinch to zoom commands to function as a normal tablet. With it's 5000mAh battery, it can deliver a life of up to 4 hours of work and play in one single charge. Not to mention it is extremely lightweight coming in at only 2lbs, and very slim at only 0.27".
We could go on about how much we love this monitor. If you are looking to test out the OLED technology without committing to a monitor, or simply want a slimmer, more compatible version of the OLED monitor, then this 15.6" screen is the perfect option.

Check Price
We couldn't simply talk about OLED monitors, let alone OLED gaming monitors without mentioning the dominating brand of Alienware. Alienware has always upheld an incredible reputation in the world of gaming monitors. Their new Alienware AW5520QF OLED Gaming Monitor does not disappoint as it is high on the list of best OLED gaming moitors.
As you can imagine, the Alienware OLED Monitor delivers incredible true-to-life colors at 4k display, not to mention 3840 x 2160p resolution and 120hz. They have also included a low input latency for minimal lag and incredible gaming speed and overall display. If you are a professional or avid gamer, and frequently play FPS or competitive multiplayer games, then this is absolutely the monitor to consider.

Check Price
Next on the list, at easily the most affordable price, is the Dell UP3017Q OLED Computer Monitor. Dell too has designed an almost flawless OLED 4k display monitor with extreme contrast ratios and unparalleled life-like pictures. As Dell remains one of the number one brands in monitors, the Dell UP3017Q OLED Monitor delivers quality that only Dell knows how to do.
Originally, the monitor had 120hz refresh rate, but came with a hefty price tag. Dell lowered the refresh rate to 60hz in order to bring the price down a few thousand dollars. However, the picture is still completely breathtaking and is still a good gaming monitor option.

Check Price
The ASUS ProArt PQ22UC OLED Monitor is another handy, portable option if you find that you need your OLED monitor to be for more travel. It still provides a standard 21.6" screen size with multiple stand options depending on how you would like to display your work.
As one of the world leaders in computer manufacturing and technology, ASUS has delivered the world's first 21.6", 3840x2160p display with pure RGB stripe OLED panel for a more accurate color reproduction thanks to its 99% DCI-P3 color gamut. It also includes a true 10-bit color depth and 1,000,000:1 contrast ratio for deep blacks and more accurate highlights.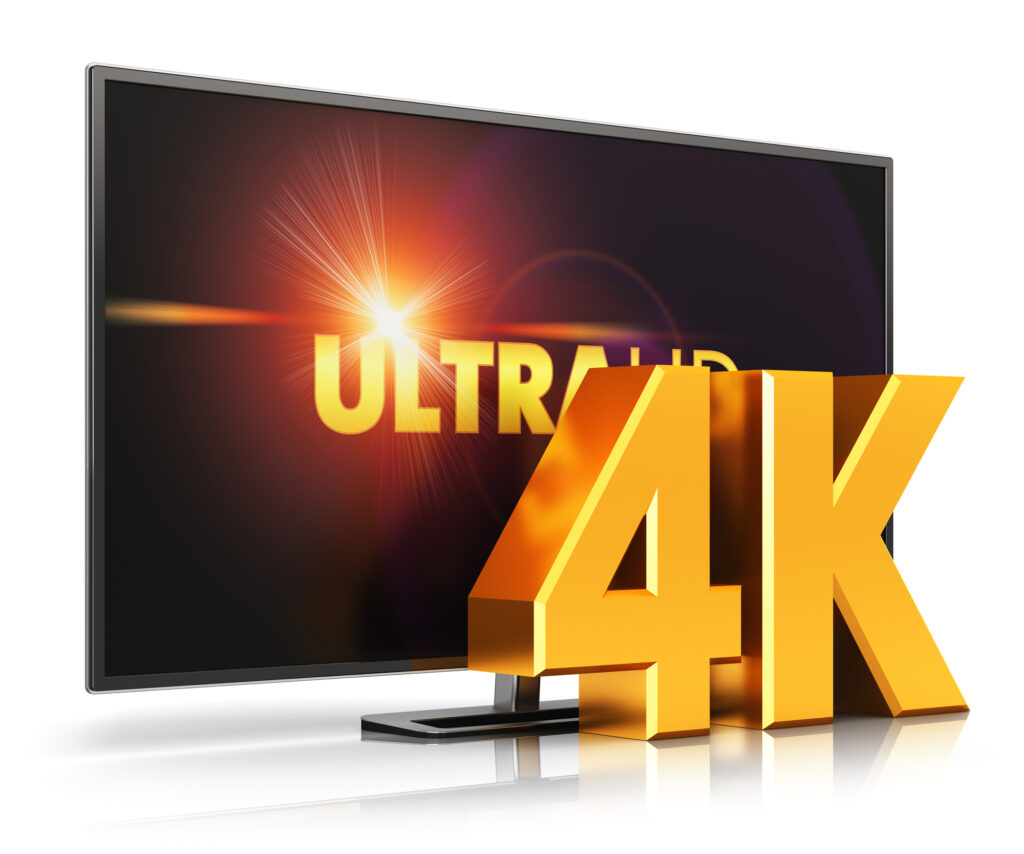 Next on the list is the AORUS FO48U OLED Monitor. This monitor is a nice size between the LG 32ep950 and the Alienware AW5520QF, sitting at a nice 48" 4K OLED 3840x2160p display. This monitor holds up with its competitors delivering an incredible display picture with its 10-bit color, 987% DCI-P3, and 130% sRGB.
Many also reported that this monitor was noticeably faster than their typical PC's and mentioned an especially immersive gaming experience with this monitor as well. But aside from the visuals is the true to life sound experience and extreme color depth. AORUS really has thought of everything when designing their own OLED display monitor.

What To Consider When Buying An OLED Monitor
Like many big hardware purchases, an OLED monitor comes with a few key tips to look for. This is to ensure you get exactly what it is you are needing before you spend the money. Most generic monitors do not offer the level of unique factors that an OLED computer monitor does.
With that, it's important to go over a few things to keep in mind before buying your own OLED computer monitor:
OLED Monitor Burn-In
Unfortunately, this is a very real thing that you must consider before investing in an OLED monitor. While they can be extremely satisfying monitors, they are still at risk of permanent burn-in. This happens when your OLED monitor displays a static image for too long.
This causes the pixels to degrade in the form of permanent retention. Keep in mind, there is no way to fix this, so if you aren't careful, it can be very easy to you to accidentally ruin your new monitor.
LED vs OLED
Now, you may be completely content with your LED display monitor and wondering, is OLED really worth the jump? Will I notice a difference between LED and OLED? Well for starters, yes. The picture quality, response time, and higher contrasts and drastically better than LED. OLED is also thinner, lighter, uses way less energy to run, and offers hands down the best viewing experience. It is, however, a little more expensive than LED, although it has been trending downward in price recently.
So, is OLED worth the extra money?
Yes. With deep blacks, incredible colors, superior viewing angles, and a much faster response time for a smoother picture, OLED beats out LED any day. We would definitely consider them to be worth the few extra bucks for the high quality display you would be getting.
Why is OLED Better Than LCD?
Just as it is titled, OLED is better than LCD. The reason for that is the energy efficiency, the incredible depth of darks that maintain detail, and the bight colors more vivid and accurate than any other display.
OLED Displays do not need the extra thickness that other monitors need, since the pixels organically omit light. No backlighting means your monitor is thinner and lighter than other technologies, including LCDs. Do keep in mind that the increased quality does come at a higher price tag, but we believe it is absolutely worth it.
Price of an OLED Monitor
The price of an OLED monitor can be much steeper than your typical PC. In fact, many OLED monitors can be even more expensive than your top tier 144hz or even 240hz gaming monitor. There are a few reasons for this but the main one being, OLED computer monitors are still relatively new. They are still getting out there on the market and therefore are a hot commodity. Once the technology becomes a little more mainstream and more manufacturers start producing their own versions, chances are we will see the price start to come down.
OLED Monitor Response Time
Almost everyone is familiar with LED displays or even has an LED display device of their own. LED display uses a backlight for its bright display and vivid colors. OLED display, on the other hand, does not. Thanks to this, the response time for pixels on the screen is improved dramatically.
Many gamers dream of a monitor with 1ms response times over the entire spectrum of transitions for a smooth and immersive gaming experience. OLED monitors blow 1ms response time out of the water with an easy 0.5ms response time. In gamer language, this means picture perfect image quality, full immersion, and no ghosting.
Final Thoughts
OLED computer monitors offer a huge technological advantage over standard LED screens. While they are still fairly new to the market and there are not that many currently available, we can expect to see OLED screens become the new standard for work and play. 
If it is currently possible for you, we would highly recommend upgrading to an OLED monitor while taking precautions to prevent burn-in and boost the longevity of your monitor. These monitors office incredible pictures, sharp contrasts, and even better response times compared to other monitors on the market.