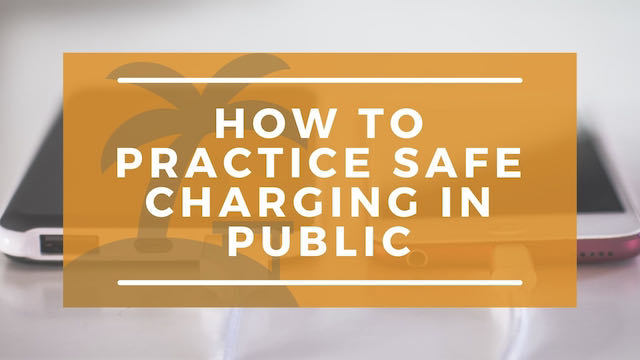 If you have ever found yourself out and about with low battery on your device, you know the panic that comes with it. The emotion is even more frantic when you do not have your own charger on hand. Today, it is not uncommon to find charging stations available for public use. There are some things you should be aware of as you're browsing these stations. Many of them are not as safe as you think.
While they might not be innately dangerous for your device, they can grant themselves permission you would never allow them. You can walk away from charging your phone at one of these stations without ever knowing just what they did or had access to.
So what is it that they have access to? Well, public charging stations, rapid charge stations, and others can secretly steal your information. The good news is you can use a data blocker device to prevent them from stealing this information.
What is a Data Blocker Device
The safest way to use public charging stations is to use data blockers. A data blocker device is a small piece of hardware that plugs into your USB cable before plugging into the charging station. It as the simplistic goal of allowing your device to charge, without allowing any data to travel the other way. This way, no one is farming your data.
The greatest part about data blockers is they are cheap. If you happen to lose one, it won't cost hardly anything to replace. This makes them an accessible, and necessary part of any digital nomad's travel bag. Using a phone data blocker is a good practice to get used to.
If you are interested in learning more, especially if you are learning about phone data blockers for the first time, you can check out some of the names which they are referred to. You can find them under the name "Juice Jacker" or "USB Condom" as well as some other terms.
Reputable USB Jucie Jacking Blockers
There are some that we found that we prefer, though, the products are simple enough that we do not believe any will outperform others in a grand way. Here is what we found:
The JSAUX USB Data Blocker
Check Price
The simplicity of these products are one of the greatest charms. The JSAUX is as straightforward as any of its competitors. The main highlights include: pop-up blockers and 2.4a Rapid Charging. It is compatible with any mobile device you would use a USB charger for.
This product comes in a 4-pack. You can store one in each bag you may take out, use more than one at once for all your devices, or share the extras with friends. Like we said before: it is cheap!
The PortaPow USB Data Blocker
Check Price
There are no wildly different features from the JSAUX to the PortaPow products. PortaPow is globally recognized and used by governments for increased security. It includes charging capabilities up to 2.4a, and is compatible with any USB device you may want to use, thanks to its smart charge chip.
The biggest reason to spend the extra couple bucks here for a 2-pack is the 2 year worldwide warranty.
If you are looking for a different charger type, don't worry. They also make USB-C to C Data Blockers.
USB-C to C Option
The First USB Data Blocker for Phones and Laptops 
The discovery of secret data transferring through charging stations brought about some feelings of discomfort. The more inventive persons took charge and made a device to combat the theft of personal data. In order to "practice safe charging," they made the USB Condom.
The rough design was never intended to be flashy, and was not made to be improved. It is rugged and it does exactly what it is supposed to do. It is a simple, sturdy extra bit of cable that changes everything for the consumer.