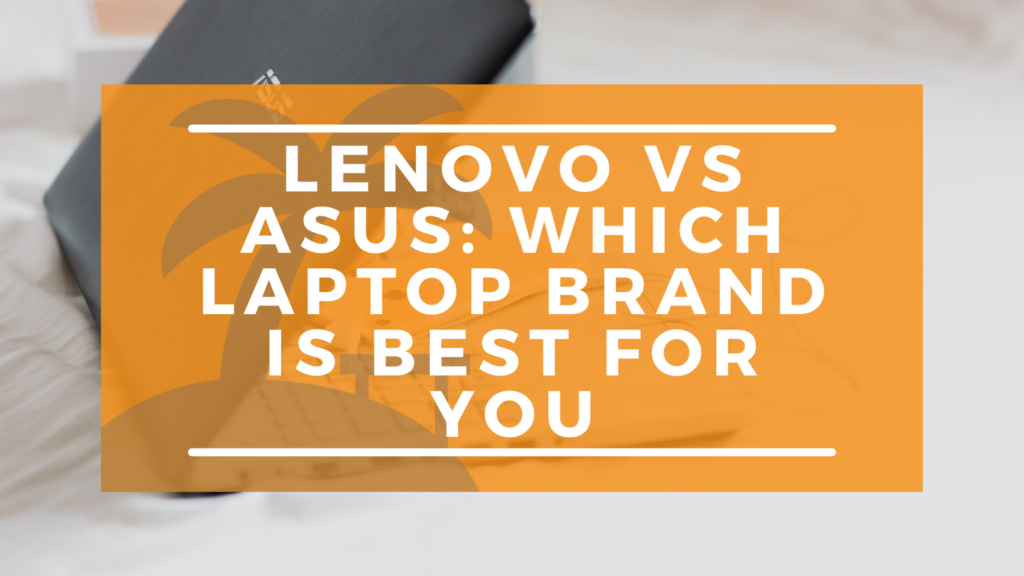 Here's a rundown of the latest Lenovo and Asus models and their present features. 
A little bit about Lenovo
Lenovo Group Limited is a Hong Kong-based public Chinese technology and manufacturing corporation founded in 1988. Lenovo's global headquarters are located in Beijing, China. Liu Chuanzhi created Lenovo Group on November 1, 1984, in Beijing, China. 
Lenovo is a company that makes, markets, and distributes computers, tablets, workstations, smart televisions, smartphones, printers, laptops, and other electronic and mechatronic equipment. 
Lenovo is not a generic brand. Lenovo products are superior due to internal roll cages, Active Protection System, Enhanced Experience, and other technologies. Lenovo produces the ThinkPad, which is by far the most well-known laptop system for enterprises and businesses around the world. 
A little bit about Asus
ASUSTek Computer Inc., located in Beitou District, Taipei, Taiwan, is a Taiwanese multinational computer and phone hardware and electronics firm. Desktop computers, laptops, netbooks, smartphones, networking equipment, monitors, wireless routers, projectors, motherboards, graphics cards, optical storage, multimedia products, peripherals, wearables, servers, workstations, and tablets PCs are among the company's offerings. (1). In addition, the firm is an original equipment manufacturer (OEM). 
Asus vs Lenovo: Everything You Need to Know
The ideal laptop is one that meets your budget, comes with a support warranty, and offers features that are appropriate for your work or play.
Budget

 
When it comes to purchasing a new laptop, the price is the first consideration. A laptop is an investment that should be made over time. 
Lenovo and Asus laptops are inexpensive and budget-friendly, however, prices vary depending on usage. However, Asus is usually less expensive than Lenovo.
Design and Aesthetic
Lenovo laptops are noted for their sleek flip design and lightweight, whilst Asus laptops are known for their durability and high-quality components. 
A Lenovo ThinkPad is the best way to go if you're searching for a casual, business, or everyday laptop.
Performance

 
Both brands have powerful laptops on the market that can handle video editing, photoshop programs, and gaming. ASUS and Lenovo both offer laptops with RTX 2080 and even 3080 graphics cards and CPUs as powerful as the 10th generation i7, but Asus has recently added AMD Ryzen chips, which are among the most powerful. 
With the latest addition to its powerhouse and much superior battery performance, Asus tends to be more powerful than Lenovo.
Advantages and Disadvantages of Asus Laptops

 
Advantages of Asus Laptops
Travel-Friendly: The built-in Asus laptop battery is lightweight and compact, making it simple to move from one location to another.

Cost: The Asus laptop is reasonably priced.
It's well-made and stylish.
High Quality Internal Processors
No Peripherals Required: The laptop is simple to use and does not require any additional equipment. It has a built-in keyboard, a built-in mouse (touchpad), built-in speakers, a built-in microphone, and a built-in camera on certain Asus laptops.
Disadvan tages of Asus Laptops
Sensitivity

Processor with a slower speed compared to competitors
Performance: The laptop has a lot of extra functionality that isn't very useful for everyday use, but is useful for business.
Power source
Updates: Any Asus laptop running an operating system will need to be updated on a regular basis. Depending on the nature of the update, it can be applied to the user without much preference (critical, urgent, routine, etc.).
Asus Zenbook 13
Buy on Amazon
The Asus Zenbook 13 is one of the most popular Asus laptops. 
The Asus Zenbook 13 features a NanoEdge design, which features reduced bezels on all four sides for a more immersive experience. It boasts a high-resolution display with wide-view technology for crisp visuals even when seen from unusual angles. The EgroLift hinge of the Asus Zenbook 13 helps to boost audio performance and cooling by automatically tilting the keyboard to a comfortable typing posture. 
It has the newest Intel core CPUs and discrete NVIDIA graphics for a smoother and faster working experience, despite its small size. 
Specifications and Dimensions 
Screen size: 13.30-inch

Dimensions (W x D x H): 310.00 x 216.00 x 13.90 mm
Weight: 310.00 x 216.00 x 13.90 mm

Advantages and Disadvantages of Lenovo Laptops

 
Advantages of Lenovo Laptops
Affordability: Lenovo laptops are nearly half the price of similar laptops from other brands, with one or two additional features. Lenovo laptops are offered in a variety of configurations, ranging from everyday use to high-end performance.

Longer battery life than their competitors
Versatile: Lenovo offers a wide range of laptops, ranging from powerful laptops for digital design and gaming to ultraportable business laptops.
Support Service: Lenovo has service centers in a number of countries around the world, making it easy for customers to get the support and service they need from anywhere in the world.
Innovative: Lenovo laptops have seen significant performance improvements. Their visuals are more advanced than ever before, because of the widespread use of powerful GPUs and processors.
Disadvantages

of Lenovo Laptops
Longevity: Lenovo laptops are not very durable and rarely last more than two years.

Uninteresting Design
Illustration are lower quality
Gen 9 ThinkPad X1 Carbon

 
Buy on Amazon
The ThinkPad X1 Carbon Gen 9 is one of Lenovo's most popular laptop models. 
The ThinkPad X1 Carbon Gen 9 has a clever thermal solution (dual fan and rear venting) that keeps the laptop cool even when used for extended periods of time. The laptop uses Intel Core i7 Pro processors from the 11th generation and the Intel Evo platform for great performance and power. 
ThinkShield security features are built into the ThinkPad X1 Carbon Gen 9, including a biometric fingerprint reader on the power button for faster login and booting, a human presence detector that automatically locks the laptop when you walk away, and the Privacy Guard display panel to keep passersby from seeing what's on your screen.
To improve your viewing experience, the ThinkPad X1 Carbon Gen 9 notebook has a refined 16:10 display with minimal bezels and a vivid, high-resolution screen. 
Specifications and Dimensions 
Screen size: 14-inch FHD 

Display resolution: 1920 x 1200

Dimensions (W x D x H): 12.4 x 8.72 x 0.59 inches (315 x 221.6 x 14.9 mm)
Gross weight: 2.49 lb (1.133 kg)

Conclusion

 
Both the Asus and Lenovo laptop brands are economical and offer benefits in various areas of life; for example, the Lenovo is better for gaming while the Asus is better for academic purposes. The decision between Lenovo and Asus is made based on the purpose and usage requirements. However, in general, Asus laptops perform better in terms of monitor, display, and resolution. Their screens are stunning and crystal clear, making them a better choice for people searching for a high-resolution monitor screen.