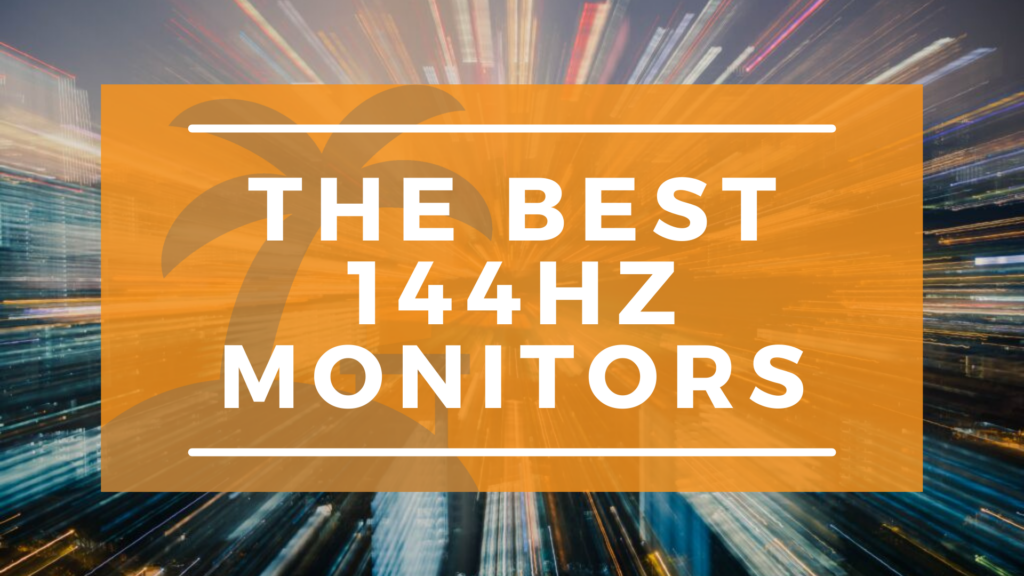 As gaming becomes a more immersive experience than ever before, PC's and monitors continue to become even more powerful to keep up with the demands. Since the rise in popularity in online gaming, the battle for the highest resolutions and fastest refresh rates has been ongoing.
Today, the new standard for gaming monitors would be 144hz. In fact, you've probably heard by now how a 144hz is a must have, especially for competitive and multiplayer gaming, and that once you finally make the jump to 144hz you will never go back. But, is a 144hz monitor worth it for gaming?
Now, with even more options on the market offering even high frames rates such as the 240hz and even 360hz, we want to know if purchasing a 144hz monitor is worth the money while still providing that next level gaming experience.
Does 144hz Make a Difference?
Imagine you are playing a first person shooter game and there is an enemy player you are trying to take down. If you attempt to shoot that player using a 60hz monitor, you would technically be firing at a target that is no longer there. Your monitor does not refresh the picture quick enough for you to realize where you need to target. Of course, you can see how this could affect your score in any FPS game. Half a second can make all the difference in the world.
The video above is a great example of the difference it can make between different refresh rates. In order to utilize a high refresh rate your frames per second must also be high in order to prevent screen tearing. What's more is high refresh rates and frame rates lower in game lag, resulting in a much more responsive gaming experience. Keep in mind that you must have a powerful enough CPU/GPU to achieve the refresh rate you want.
While you may not notice a big difference jumping from your 60hz monitor to a 144hz, if you were to then go back and start using your 60hz monitor you would be sure to see why you made the switch in the first place. In fact, just moving your cursor across a 144hz screen will make all the difference in the world.
Would I Benefit From a 144hz Monitor?
144hz, although incredible, are not going to be the right option for everyone and not something we would recommend for any type of computer user. The first thing to look at is what type of games you are playing. If you are playing highly details FPS, multiplayer, or any other competitive type of game, 144hz or 240hz monitors are going to be the best solution for you.
Making the jump from 60hz to 144hz will make a huge difference in your gaming experience and online play. Keep in mind, this would be for avid gamers who play multiple times a week or even compete. Anyone who is a professional gamer or streams for a living would benefit much more from a 240hz or even 360hz monitor.
If you typically play slower paced but more detailed oriented games, we would recommend going with something that is going to be a higher resolution display rather than a high refresh rate. It would make more sense for you to enjoy higher quality details of your game rather than a quick response speed.
Lastly, if you watch a lot of TV, movies, or videos on your computer 144hz can also be a great option for a better picture. In fact, many gamers use their gaming setups for Netflix when they're not playing.
The Top 5 Best 144hz Monitors for Gaming
If you are in the market for a new 144hz monitor, we recommend going with the best. Of all the products we went through, these are what we consider to be the top 144hz monitors that you can buy based on consumer reports and professional feedback.
1) ViewSonic ELITE Gaming Monitor
Kicking things off, we wanted to start with the ViewSonic ELITE, one of the top 144hz monitors on the market, and definitely one that's worth the few extra bucks. This 27in immersive monitor comes with 1440p resolution and 144hz refresh rate to give you the ultimate gaming experience. The IPS Nano Color Technology delivers some the brightest and most vivid colors we've seen from a 144hz monitor – of course you can imagine how much more beautiful your games look on a monitor like this.
Buy on Amazon
What we loved about this monitor especially was the ultra-low motion blur. Especially when jumping from 60hz to 144hz for gaming, minimizing the blue as much as possible makes the transition much smoother and your games much more enjoyable. They even recently announced a new Elite OLED monitor on the horizon soon for an even more immersive gaming experience.
Lastly, we wanted to mention a few bonus details about this monitor that we found very useful First off, this monitor has a fully adjustable ergonomic stand. It's a small detail but we especially loved this for any type of marathon gamer and online streamers. It also has a built in mouse bungee, ambient lighting, sight shield, and a headphone hook for when you're finished playing.
Display Resolution: 2560 x 1440p
Screen Size: 27in
Display Type: LCD
Dimensions: 24.2 x 18.6 x 10.4
2) ASUS TUF Gaming Monitor
Tried and true, ASUS never fails to disappoint us when it comes to premium gaming monitors at an affordable price. The ASUS TUF Gaming monitor in particular, although still a mid-range price, is considered one of their top options when it comes to 144hz monitors.
What we loved about the ASUS TUF was the 32in 1800r curved HDR screen paired with the 144hz for an incredible gaming experience – perfect for professional gamers or those looking to take their gameplay to something more immersive.
ASUS is always looking out for the gamers, this monitor comes with careful eye protectant measures including extremely low motion blue for a smooth picture and reduce tired eyes. ASUS has also included their eye care technology and an ergonomic stand for marathon gamers and online streamers to play for many hours without risking eye fatigue.
Buy on Amazon
Lastly, the color on this monitor was absolutely incredible with exclusive game visuals and shadow boosts which enhance image details in dark areas, but also brightens scenes without over exposing. This was a great feature especially during the day when it's lighter out and there is the possibility for screen glare.
Display Resolution: 2560 x 1440p
Screen Size: 31.5in
Display Type: LED
Dimensions: 28.9×9.19×18.93
3) LG UltraGear Curved Monitor
To be honest, this one was by far one of our favorites and we'll tell you why. For starters, the screen is gorgeous. It has a QHD Curved Nano IPS Display that fits the natural curvature of the eye when you look at it straight on and is completely borderless. If you don't typically play on a curved monitor, I highly suggest checking it out.
Buy on Amazon
We also want to point out the back stabilizer feature on this monitor. Most monitors do include this features nowadays, but this one in particular looked especially sharp and felt like the game was never really in the dark. It also made other scenes much brighter and sharper contrast but without being overexposed.
Lastly, this monitor values accuracy, every gamers number one priority. That's why they've included a crosshair feature for an accuracy advantage. When you play first person shooter games, a center display crosshairs with give you enhanced vision and professional level precision.
Display Resolution: 3440 x 1440p
Screen Size: 34in
Display Type: LED
Dimensions: 32.3 x 12.3 x 18.3in
4) GIGABYTE G27Q Gaming Monitor
This monitor has had a lot of positive feedback so we knew we had to dive in more on this one. The GIGABYTE G27Q gaming monitor comes with ultrafast 144hz display and a 1ms response time. The gameplay is extremely smooth with AMD FreeSynce Premium and even has a black stabilizer and extremely vivid and bright colors. We were extremely impressed with the overall picture display.
Buy on Amazon
A few more features worth mentioning about this monitor is they also have an aim stabilizer that makes it easier to lock on to your target and gives you more visual clarity. They also have a dashboard display which we loved for avid gamers. The dashboard reveals your real-time hardware information without blocking your game, incuding things like temperatures, clock speed, CPU voltages, and other information.
One last important thing we wanted to point out about this monitor was that it is TÜV Rheinland  Low Blue Light certified which is great for protecting your long term eye health.
Display Resolution: 2560 x 1440p
Screen Size: 27in
Display Type: IPS Display
Dimensions: 24.17 x 14.54 x 2.89in
5) Acer Nitro Gaming Monitor
Last but not least, we wanted to wrap up the list with the Acer Nitro. Acer has always been a top tier company when it comes to computers and monitors and the Acer Nitro does not fall short of this premium reputation. There are a few reasons why this monitor is so popular, for starters being its ultrawide shape. If you love the wide screen size of a curved monitor, but don't necessarily enjoy the curved feature, this is the monitor we would recommend instead.
Buy on Amazon
Aside from its silky smooth visuals, black stabilizers, and color boosters, this 144hz monitor also comes with 3440x1440p resolution for a premium gaming experience. While these graphics are beyond incredible, we love a monitor that is always looking out for the eyes. Acer utilizes their BlueLightShield technology as well as Flickerless technology to protect your eyes from strain and fatigue, but also work to prevent long term eye health issues.
Display Resolution: 3440 x 1440p
Screen Size: 34in
Dimensions: 32.2 x 10.6 x 19in
Final Thoughts
While 144hz may not be the right option for everyone, it is perfect for gaming enthusiasts and those looking to take their competitive gaming to the next level. Especially is you are still playing on a 60hz monitor, it may be time to step it up and upgrade to the 144hz for a more responsive and immersive gameplay experience.
However, if you simply use your computer for work, simple programs, or slower but more detailed gaming, we recommend looking at some different monitor options that give you a better picture over high frame rate.