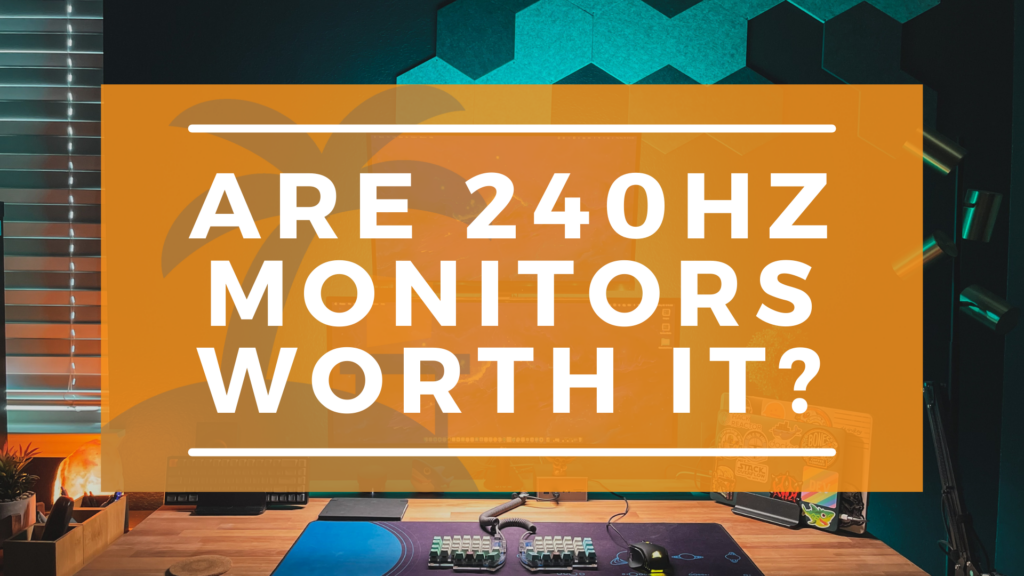 To the average person, it can be tough to spot the difference between a 144hz monitor vs 240hz monitor. However, if you are an experienced gamer looking to up your play time experience, the jump from 144hz to 240hz can make all the difference. While 144hz monitors can still offer you optimal performance, a significant visual boost, and most likely a more affordable price tag, 240hz monitors can still be well worth the expense.
Almost as soon as 144hz monitors became mainstream in the market, many manufacturers began to push the performance even further. Before we knew it, 240hz monitors were being offered as a premium gaming monitor option. 144hz soon took over as the commonplace monitors, while 240hz was the new bar for performance gamers.
However, it won't be long before 240hz monitors are knocked off their pedestals, as a handful 360hz monitors are already sneaking into the hands of elite gamers. For now, we will be focusing on one major question: is 240Hz monitor worth it for gaming in 2021?
What are refresh rates?
Before we dive too deep into the advantages and disadvantages of 240hz monitors, let's first go over a few fundamentals. So, what is a refresh rate exactly? What does the refresh rate do? The refresh rate of your monitor display is referring to how many times per second the display is able to flash a new image, which is always measured in Hertz. In fact, they are even making OLED monitors with even faster refresh rates if you really want to push the limits.
If we apply that to 240hz monitors, then that would mean that your monitor is refreshing the image 240 times in a single second. Crazy right? As you can imagine, gamers that are using a 240hz monitor for the first time may experience headaches, tired eyes, and sometimes even motion sickness as they adjust to the new image speeds.
What are the Pros and Cons of using a 240hz monitor?
There are many significant advantages to using a 240hz monitor, one of the top reasons of course being a higher frame rate. With that said, the two primary advantages to using a 240hz monitor are:
Increase in responsiveness and a more fluid gaming image. At 240 images per second, there is quite a significant decrease in motion blur. This is great for first person shooter (FPS) type games, or any type of competitive gaming.
Slightly better reaction time, especially in multiplayer games. This is key if you play online or competitively.
Bottom line, if you are playing competitive multiplayer games, a split second can make all the difference which is why so many choose to invest in the 240hz monitors. However, these monitors do come with their own drawbacks too.
You may be trading visuals for performance. Many 240hz monitors typically come in TN panels or IPS panels. As TN panels become outdated (although they still constitute a large portion of available 240hxz monitors) IPS panels have taken over. IPS panels perform much better now than they did a few years ago and offer better colors and viewing angles. While they are much more affordable, you would still need to get a "full set up" that has you fully covered on performance and visuals.
You will need a graphics card powerful enough to perform such high framerates depending on how powerful your hardware is and what games you're playing.
The Best 240hz Monitors on the Market
In order to help you find the best possible 240hz monitor, we have personally tested and reviewed the following products. We have also paired up with other professionals in the industry to gather their opinions on the monitors as well to give you well rounded review. Here is what we consider to be the top products on the market currently:
1) Samsung Odyssey G7 Series
Kicking things off, we wanted to start with the Samsung Odyssey G7 Series. This monitor is actually a 240hz curved monitor designed for gaming, although it is great for everyday use too. What we loved about this curved monitor in particular was the 1000R panel. This is designed to naturally match the curvature of the human eye to help avoid eye strain, as well as create a more immersive experience.
Check Price
One of the biggest things we noticed about this monitor, as well as the number one positive feedback we received from others that used this monitor, was its vivid color. This Samsung Odyssey G7 Series monitor uses a QLED technology that makes blacks blacker, and colors much more vivid. Every frame truly felt like staring into a picture, and we were blown away by the overall performance, and exceptional colors.
Display Resolution: 2560 x 1440 pixels
Screen Size: 26.9in
Display Type: QLED
Dimensions: 12.04 x 24.2 x 22.68in

2) LG Electronics UltraGear
We love the LG Electronics UltraGear monitor for a few reasons, but the first reason being affordability. If you are looking for a high quality, high performing monitor without overspending your budget, this is a great monitor to consider. This 27" monitor comes in full HD IPS display to cover you on both colors and performance during gameplay. What's more, is this monitor is also NVIDIA G-SYNC and HDR 10 Compatible.
Check Price
Now, to be totally honest, you need to consider that you get what you pay for. While this monitor offers incredible colors, performance, and speedy frame rates, many professional and casual gamers alike did mention that it doesn't feel as quite high quality as some top of the line 240hz monitors in the industry. Many reported that the hardware became an issue, and pixels on the screen died over time.
However, this monitor remains one of the top monitors on the market for gaming and comes with quite a large fanbase and a solid reputation. It did not surprise us when we tested this monitor ourselves that this would be a popular choice. This is definitely a monitor we would use personally for gaming as well.
Display Resolution: 1920 x 1080
Screen Size: 27in
Display Type: IPS Display
Dimensions: 24.2 x 22.7 x 10.8in

3) Alienware 27 Gaming Monitor
If you have been even slightly immersed in the gaming world, then you've probably heard the name Alienware thrown around. Alienware dominates the gaming world by delivering some of the highest quality monitors on the market – and they don't come cheap.
There are a few reasons we had to hold ourselves back from dropping the big bucks on this monitor when we tested it.  For starters, this monitors comes with a fast IPS Nano Color technology. This means that colors are sharp, and I mean sharp. On top of that, it even comes with a 4-sided InfinityEdge display and optimized eye comfort with a flicker free screen and ComfortView features.
Check Price
Of all the gaming monitors we have tested, this one tired the eyes out the least. In fact, I was surprised to find a significant difference between an hour of playing on this monitor compared to the others. This was a big comment we received from many of our professional gamer friends out there as well. So, if you are one that streams, plays online regularly, or invests 3-4 hours of gameplay a day, this is well worth the purchase.
Display Resolution: 2560 x 1440
Screen Size: 27in
Display Type: LED
Dimensions: 3.24 x 23.93 x 14.02in

4) Acer Predator
Next on the list is the Acer Predator. Acer has always been a dominating brand in the world of monitors, and their gaming monitors also uphold this reputation. We were very impressed with the quality of this monitor during gameplay, especially for the price being more lower-mid range. This 24.5" FHD Widescreen is also NVIDIA G-SYNC compatible and VESA Certified DisplayHDR 400 for ultra brightness and contrast. The Acer Predator includes IPS panel technology to fully support the blazing fast 240hz speeds and does not compromise on visuals or performance.
Check Price
What we loved most about this monitor was its incredible colors. It performed at the same level as the Alienware monitors we've tried but for a quarter of the price. We connected with the experts to hear their thoughts, and many reported also enjoying the vividness of the colors and incredibly smooth game speed. One professional gamer we talked to said they were particularly keen on the IPS panel so that they could also stream Netflix and Hulu shows when they weren't gaming.
Display Resolution: 1920 x 1080
Screen Size: 24.5in
Dimensions: 22 x 9.3 x 18in
Wall mount included

5) Dell FHD Gaming Monitor
Last but not least in the Dell FHD Gaming Monitor. This monitor is by far the highest quality 240hz monitor at the lowest price. If affordability is what you're after, but you don't want to sacrifice quality, we suggest taking a look at Dell's FHD Gaming Monitor.
This monitor was impressively fast with a 1ms gray to gray response time. It supports 99% sRGB Color Coverage and is NVIDIA G-SYNC Certified as well as AMD Freesync Premium Technology Compatible. We were especially blown away by the smooth picture, the sharpness of the quality, and the especially vivid colors. This would be a great first monitor if you are just starting your set up or are looking to upgrade your old setup to a new 240hz monitor.
Check Price
While we very much enjoyed the overall display, we did receive mixed reviews from the professionals. While all agreed that they eventually got the colors how they wanted them, the biggest drawback was that the colors on the monitor were not great right out of the box. It took a little tweaking to get everything just right, but once you locked down your preferred color settings the gaming experience was a dream.
Display Resolution: 1920 x 1080
Screen Size: 24.5in
Display Type: LED
Dimensions: 21.6 x 7.9 x 19.9in

Final Thoughts
So, are 240hz worth it? Considering most gamers are still operating on 60hz gaming monitors, a 240hz monitor can make quite the dramatic difference in your gaming experience. Keep in mind, this will come down to the type of setup you have and what games you play. If your setup is not ready to fully run a 240hz monitor, you may want to consider investing in other parts first before you jump the gun on a new monitor.
For now, we would only recommend a 240hz monitor to avid gamers, professional gamers, people playing competitively online, and especially if you are playing a competitive multiplayer game. Many cannot tell the difference between a 144hz monitor and a 240hz monitor, so if you are not sure if the 240hz monitor is right for you, you may want to consider the 144hz monitor route instead.