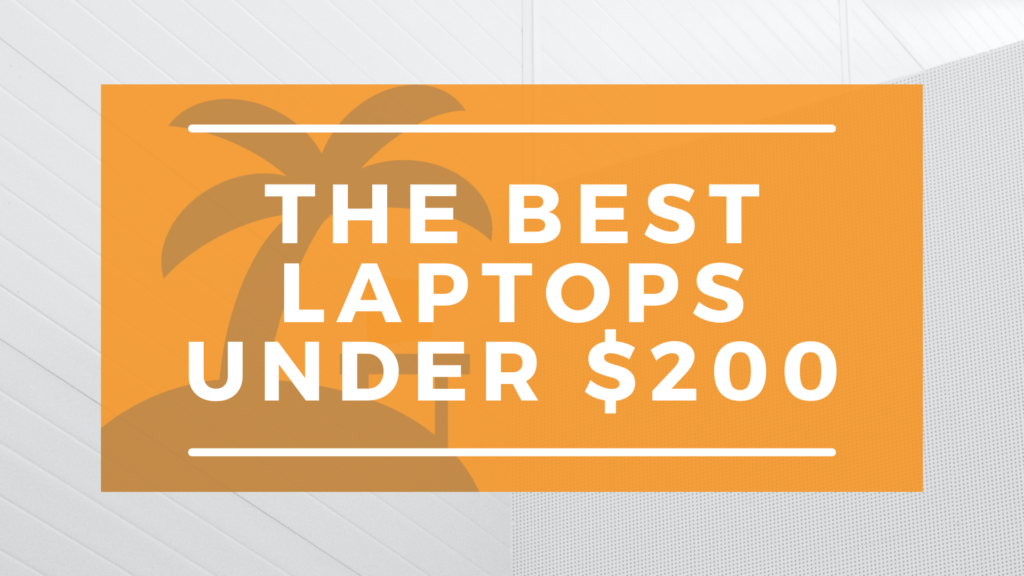 Purchasing a laptop for school, work, or personal everyday use seems like a no brainer. They are light, portable, and afford you the luxury of large memory size for all your files all in a small compact notebook.
Now, it's no secret that the effects of the COVID-19 pandemic have also taken a toll on the laptop industry. As a result of everyone moving online for school and business, the silicon chip shortage caused laptop prices to skyrocket. It can be tough trying to find an affordable laptop option for what you need. But thankfully, there are still some great laptop options under $200 on the market (1).
To save you a little time in your search, we've put together a list of the top 6 laptops under $200 available for purchase today.
The Best Low-Cost Laptops for Less than $200
The HP Chromebook 11 is a fantastic laptop, and has the best reputation for being a durable, reliable, and affordable option. The outside of the laptop is a molded rubber exterior, although it has somewhat of a plastic look. Typically in cheap laptops, the molding is a durable plastic, but HP took it a step further with the molded rubber. This adds a little extra thickness and scratch resistance to your laptop, boosting its overall durability.
Check Price
What's more, is the molded rubber helps protect against dust and water, meaning that it is completely spill proof and can even be dropped from a height of around 2 feet onto concrete with little to no damage.
This added layer of protection can be great for those who tend to travel often for work or would consider themselves digital nomads. It will last through the wears and tears of travel and still be a reliable laptop option for you.
The HP Chromebook also comes with an 11.6in display and offers up to 11 hours of battery life. The 11.6in screen does seem to look a lot better than most other laptops this size and has a great display.
Now for the honest stuff. While the HP Chromebook 11 is a great laptop option – especially for students – one of the things we noticed with this laptop is that it was on the heavier side, weighing in at about 3 pounds. This could be taxing on students or professionals who are also carrying textbooks or other electronics.
We also noticed that the audio seemed to become somewhat shrill as we raised the volume. It doesn't seem like the internal speakers would perform well at a high volume, but you could also simply plug your laptop into an external speaker system.
Others also reported the touchpad being somewhat unresponsive over time, although we did not experience this issue. In our opinion, as long as you take care of your laptop, it should perform well for you for many years.

The Samsung Chromebook 3 is another top-tier option when it comes to the best budget laptops. In fact, for the price, the Samsung Chromebook 3 is one of the best Chromebooks under $200. There are a few reasons why this laptop is quite the contender.
Check Price
For starters, this 11.6in notebook packs quite the array of impressive specs including fantastic display and contrasts, up to 10 hours of battery life, and 4GB of RAM giving you more than enough storage for day to day use. Keep in mind too, that Windows 10 does not dip into this storage at all, so you will be able to use all 4GB.
For a laptop under $200, the Chromebook 3's build is surprisingly good quality. The exterior is made of a durable, thick plastic that makes the laptop light (weighing in at about 2.5lbs), but still heavily protected. This is great if you travel often for work or are a student needing a reliable laptop that can withstand everyday wear and tear.
The Chromebook 3's display is quite impressive as well. It comes with a 1366x768p LED display, making it a noticeably brighter screen than its competitors. Viewing angles were decent for what you are paying. The colors are vivid, the contrasts are sharp, and you can see the screen clearly from about 45 degrees on each side.
Now, there are a few things to consider before purchasing this laptop. For starters, the plastic is durable but seems to scratch easily over time. There also seems to be lots of shadows if you are not facing the laptop head-on, so viewing angles aren't great. Overall, it looks somewhat cheap and doesn't perform well with high-performing games or apps over a long period of time.

The Lenovo Chromebook S330 is an amazing budget Chromebook option coming in at under $200. The Lenovo Chromebook S330 is great because it runs full Chrome OS with the ability to also run Android apps. This definitely opens up the possibilities a bit further of what you can do with your laptop, making it a great option if you need to use specific programs.
Check Price
This Chromebook in particular sports a 14" FHD display with anti-glare, bright colors, vivid contrasts, and comes in at 1920x1080p. Personally, it is one of the cleanest displays we've seen in a Chromebook and the anti-glare actually worked pretty well in bright light spaces.
But that's not all we loved about this Chromebook. The Lenovo Chromebook S330 also reps a MediaTek MT8173C processor, 4GB of RAM, 64GB of eMMC storage, and last but not least, Integrated PowerVR GX6250 graphics card. While it's not ideal for gaming, it would be great for more demanding work or school projects while still staying under the $200 mark.
Unfortunately, the screen does not come in 4k, only Full HD. It was still a sharp image and we were overall impressed with the specs. It also won't outperform other Chromebook options, although it does give you a better user experience overall. It isn't good for gaming or hardware-intensive tasks, but you could enjoy some light gaming on it such as Roblox.

The Samsung Chromebook 4 is another incredible laptop under $200. It has an impressive military-grade exterior making it extremely durable to wear, tear, and spill. It has an 11.6in HD LED screen at 1366x768p and offers 12.5 hours of battery life – one of the longest battery life options in Chromebooks.
Check Price
This laptop stands out in particular for its affordable price, costing less than $200. For that price, you'll get a whopping 32GB of internal storage, 4 GB of RAM, and the ability to use apps from the Google Play Store (android apps).
The Chromebook 4 really stands out as a great laptop for kids or first time users. The reason for this, is it is fairly minimal in what it can do and the image quality isn't spectacular. For example, you would be able to watch YouTube videos online at 720p without any issues, but it won't accurately render videos at 1080p.
While the lower resolution doesn't use pose a problem for a younger audience or first time users, anyone who is use to 1080p quality, will notice quite a detrimental difference.

Many premium Chromebook sit somewhere around 13in or larger in display size. The Lenovo Chromebook 11in, however, comes in at just that – 11in. The smaller screen size can be quite an attractive option for users needing a more portable or compact option.
Check Price
This laptop also comes in at an 11-hour battery life and packs an N4020 processor running at speeds as high as 2.8GHz. Quite an impressive feature for such a small, affordable laptop. The display is a standard 1366x768p, and although the screen size is small, the colors and contrasts were still quite impressive.
While we saw the 11in screen as a benefit, many users reported the screen size to be the Lenovo Chromebook's biggest disadvantage. The dimensions are 0.71 by 11.3 by 8.1 inches making it quite bulky, and the backlight was weak on the display.
It is, however, one of the smallest and most affordable laptop options available on the market now. So, if you are in need of something extremely budget friendly to run minimal programs and tasks, this is a great option.

Last, but not least, we have the Asus Chromebook C202SA. The Asus Chromebook C202SA is a strong contender when compared to its competitors. It includes quite a portfolio of impressive pros, making it one of the most popular and affordable Chromebook options available.
Check Price
With a native resolution of 1366×768p and an 11.6in HD screen, the Asus Chromebook C202SA brings a conventional Chromebook quality device to the table that many people speak highly of. The screen has a sort of matte finish to protect from scratches and prevent glare. The exterior is made of a hard plastic that is quite durable against travel.
To give you a better idea of the type of user this laptop would benefit, Asus specifically categorizes this as an "entry-level" and "education-centric" device on their website. Basically, this means this laptop is great for first time users and students.
The display, however, was not particularly impressive. The colors and contrasts were clean, but they also proved to be a pretty standard Chromebook display. The viewing angles were best dead center on the screen, if you weren't centered, there were pretty dark shadows on the screen.

What Is the Best Laptop Under $200?
By far the best laptop under $200 would be the Lenovo Chromebook S330. Not only does it have the most impressive 14" FHD screen display (1920x1090p), but it also comes with an Integrated PowerVR GX6250 graphics card, 4GB of RAM, 64GB of eMMC storage, and a MediaTek MT8173C processor. And all of that for under $200.
It also has some of the best durability, reliability, and is suitable for most professional use. This is definitely at the top of our list when it comes to affordable laptop options. The biggest question people have when purchasing a budget friendly laptop is whether or not it will last for the years to come.
Can a laptop last 10 years? No matter the laptop, the answer is yes if you take care of it properly. The first thing that usually goes out on old laptops is the battery. You can keep the battery life of your technology healthy by unplugging the laptop when it is done charging and not leaving it plugged in or charger overnight.