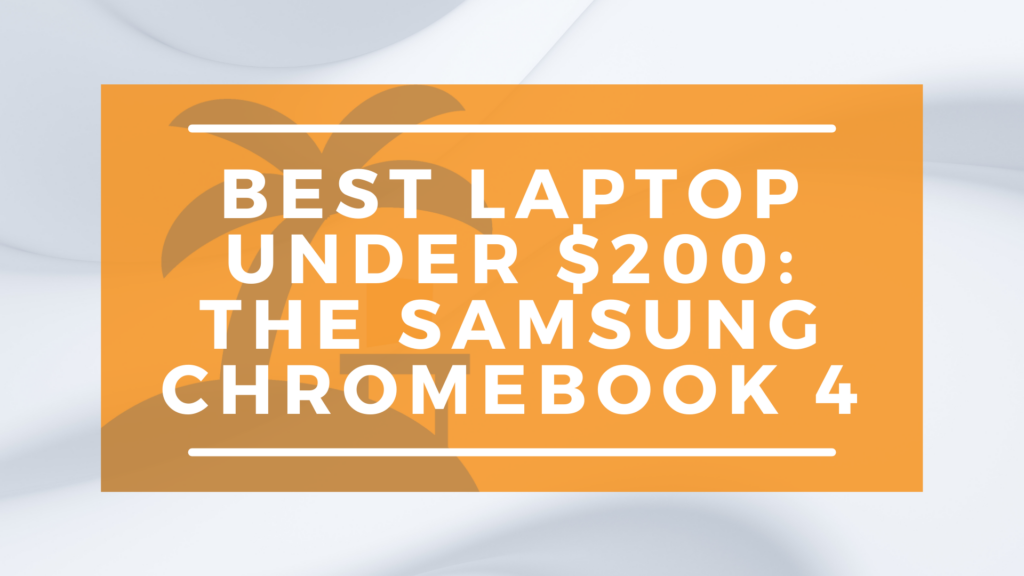 It's no secret that Samsung produces some of the best products you'll ever see. Well, the Samsung Chromebook 4 is definitely not a disappointment. This well built, cost efficient powerhouse goes for less than $200 and in this article I'll be giving a review of what you should expect when you get this laptop.
The Samsung Chromebook 4
Check Price
Design
This system has a silver colored body with the trademark Google Chrome logo on the top right corner, just below it is the Samsung logo. This laptop at first glance appears very sleek and has a dimension of 0.66 by 11.3 by 8 inches and weighs about 2.58 pounds.
Its size makes it easy to put in a bag or briefcase when you want to go out. A webcam can be seen located on the top border of the laptop. The keyboard covers the entirety of the system. The screen is very flexible and can be bent almost all the way back. Unfortunately, however, due to the relative cheapness in price, the laptop doesn't possess a fingerprint reader or keyboard backlight.
There are not so many ports on this system though. On the left hand side, you can find one USB-C port, an audio jack, and a SanDisk slot on the left edge, and on the right you'll find a USB 3.0 Type-A port and also a security lock slot.
Display and Sound
The Samsung has a screen resolution of 1,366-by-768 panels. This is actually a relatively low pixel count and as such the system won't show the most optimal displays, however, doesn't mean you won't get an equally wonderful experience with the said screen.
The keyboard looks just like the usual Chromebook custom design, having a flat yet smooth set of keys that are arranged in such a way that typing becomes easier and faster.
The sound system of the system is truly magnificent considering the cost price. Sounds from the bottom speaker however are not too loud and can appear muffled when the volume is cranked up to the max.
Performance and Battery Life
In all honesty, the Samsung Chromebook 4 is probably not something you'd want to get if you're a serious gamer, you'll probably want to get it for every other reason however because its processor is definitely not bad. It has an Intel Celeron N4000 CPU alongside Intel UHD Graphics 600 (1). It has a RAM of 6GB maximum capacity and an internal memory of 64GB   (relatively low especially for gaming).
The battery of the system is also relatively strong and since you'll mostly be using it for non-battery draining activities it's sure to last you for well over 10 hours after a full charge.

Conclusion
While the Samsung Chromebook 4 definitely has props for its display, cost efficiency, comfortable keyboard and a relatively strong battery, it comes up short in other departments such as its below optimal display, below par performance, and only a single USB-C and a single USB-A port. Spending double the amount of the system will get you one that is far, far superior to this one. So it all boils down to preference and cost at the end of the day. Regardless, be rest assured that you're getting a good quality system in the Samsung Chromebook 4 for it being such a cheap laptop.