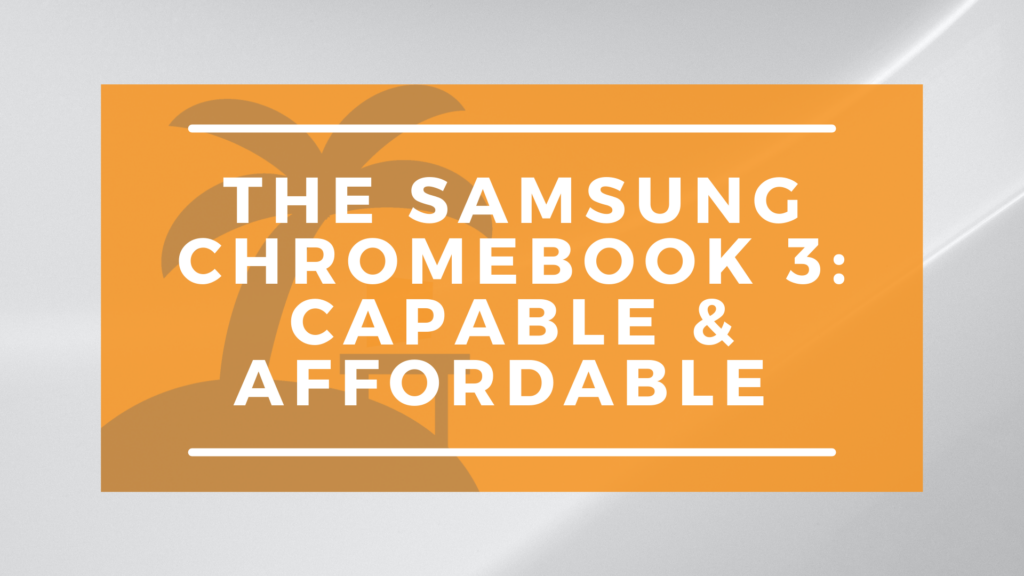 This laptop is definitely one of the best cheap Chromebooks available in the market. And for those on a tight budget, it even goes for less than $200. In this article we'll be discussing some of its specifications and why it would definitely be one to get your hands on.
Everything You Need to Know About the Samsung Chromebook 3
Check Price
Design
The Samsung Chromebook 3 has a surprisingly good body compared to its price (1). The chassis has a fine-textured palm rest and also comes with a smoothly rounded tip which ensures that your wrists won't be uncomfortable. The texture around the display of the system aids in reducing the amount of reflection.
It possesses strong hinges which allows the neck of the laptop to rotate as much as 180 degrees. It is a small sized system with measurements of 11.4 x 8 x 0.7 inches and weighs about 2.6 pounds so you can easily put it in a small carry-on bag even when you're traveling.
If you look to the left you can see a 2.0 USB port, battery indicator, slim jack for the AC adapter, and a large sized HDMI port. On the right hand side, there is a 3.0 USB port, audio jack, and microphone jack.
While we noticed it was surprisingly durable for what it is, the material used is very hard plastic. This helps cut the cost of materials resulting in a cheaper laptop option, but it did feel somewhat cheap and the plastic wears pretty quickly if you aren't careful. However, if you handled it carefully and cleaned it regularly, it would hold up for quite a while.
Display and Battery Life
This Chromebook has a 1366 x 768 LED display. It is better and brighter than most of its counterparts. The series of colors shown by this system makes its counterparts look pretty bad.
The battery strength of the laptop is quite good too as a full charge can take you throughout the course of the day. It is definitely recommended for busy office types.
System Performance
This laptop possesses a 1.6-GHz Intel Celeron N3060 processor, Intel HD Graphics 400, 4GB of RAM and 32GB of internal storage. With these specifications, it's safe to say that the system can perform all basic and many advanced functions. Many critics have commended the specifications as they give much more than the cost price.
Keyboard and Touchpad
Typing on this system feels super comfortable because the keys are arranged in perfect order and they are flat. It doesn't require too much pressure to press a key as the keys are very responsive.
The backspace key however is situated just below the power button so it is not uncommon to accidentally switch your system off.
The touchpad of the system has a measurement of 3.9 × 2.2 inches. This is quite large compared to the size of the system and this is definitely a plus. The touchpad is also highly sensitive, you could decide to change this in the settings or keep it the way it is.

Conclusion
It is human nature to want more for less, that being said this laptop is definitely a physical representation of the saying. When you get this system you know you've gotten higher than you paid for. If you've never used the Chrome OS then this will also be a good time to try it, it promises not to disappoint and would be an excellent choice for students of all age grades and people who do a lot of internet activities on their systems. It gives a good audio experience as the speakers are loud and clear. As stated earlier too, the battery is pretty strong and it definitely won't disappoint you at inconvenient times.