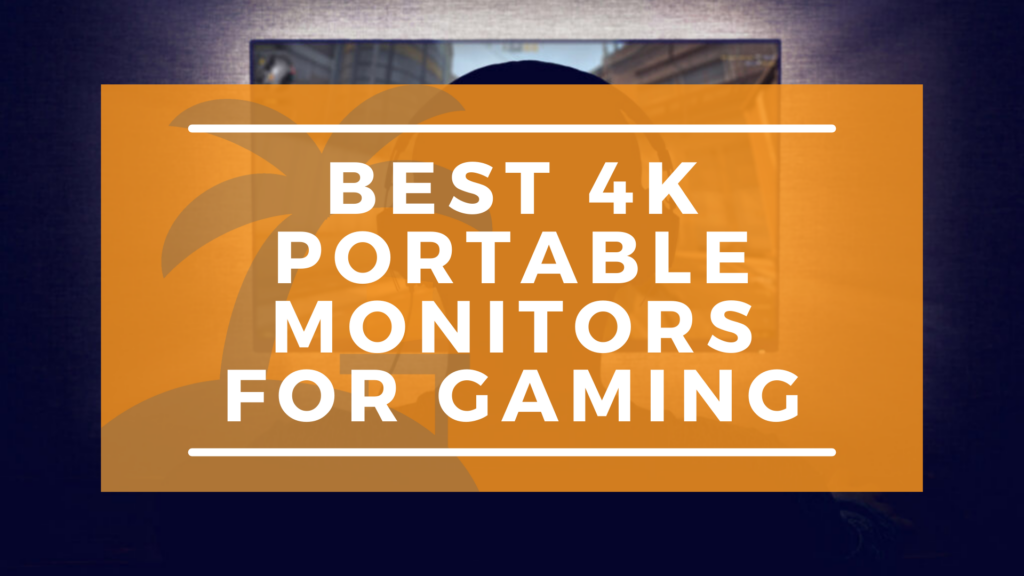 If you are a gamer, then you know that the monitor that runs your visuals is just as important as the console you play on. But if you are one that travels or needs a portable gaming monitor options, it is not always easy to know what to look for. With more and more options hitting the shelves, all offering a wide array of specs and connectivity options, finding the right portable monitor to uphold a similar gaming experience to the one you're used to at your home setup is quite the challenge.
To help you achieve an optimal gaming experience and find the best gaming monitor, we've reviewed and created this comprehensive buyer's guide and reviews for some of the highest quality portable gaming monitors for you.
However, if you are looking for something overall lighter and more portable, then you may want to consider a gaming laptop over a gaming monitor for your experience instead. In fact, Alienware and MSI make some of the top gaming laptops on the market today. 
Before delving into the reviews, you'll need a quick checklist of factors to consider when shopping for the best portable monitors.
What Makes a Portable Monitor Good for Gaming? 
There are a few main factors to look for when selecting the best portable monitors for your needs:
Response Time
Refresh Rate
Connectivity
Display
Contrast Ratio
Resolution
Color Performance
Power
Check out the buyer's guide to determine how these affect your gameplay (4).
Response Time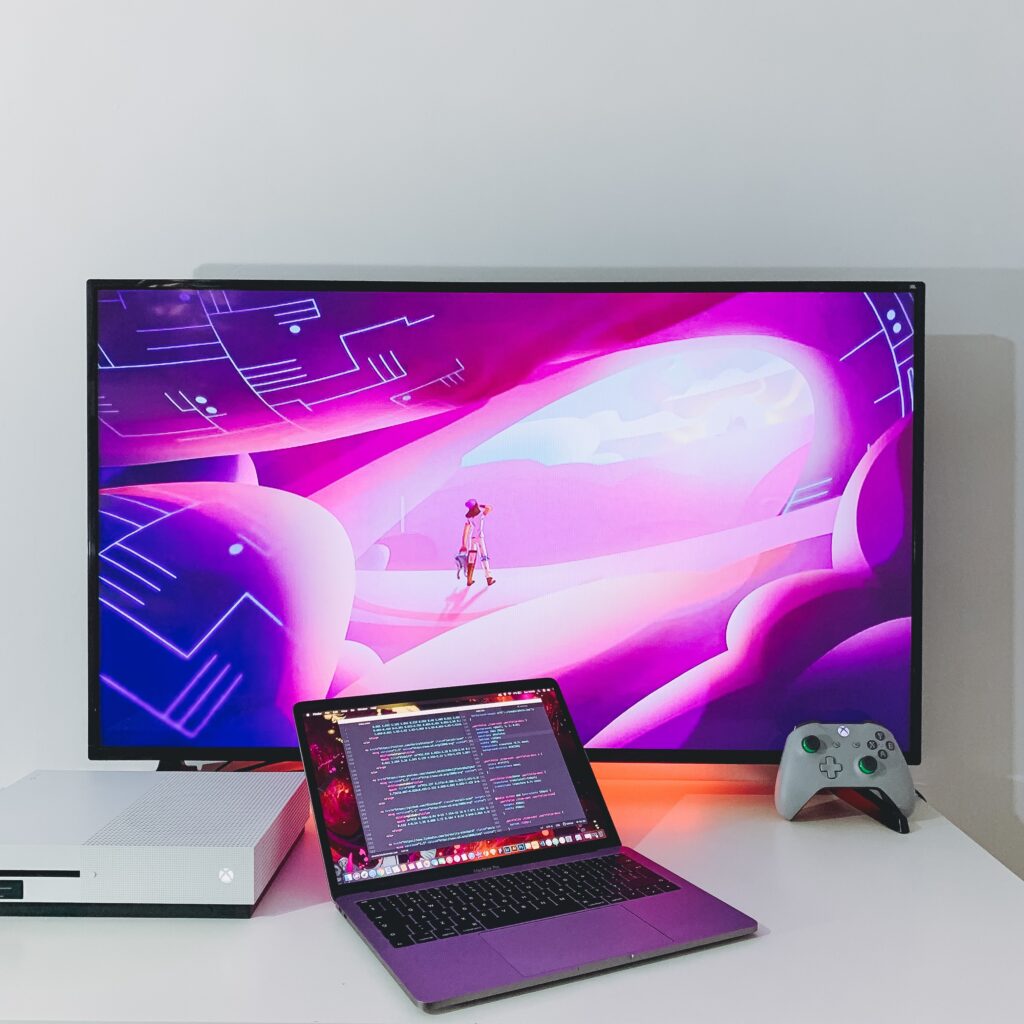 Among gamers, response time is one of the first specs to look for in a monitor. As the internet and processor speeds have increased dramatically, gamers need monitors that can keep up. This is especially true in games such as first-person shooters (FPS) or racing games that rely on quick reflexes. You don't want to be let down by lag. 
To find a monitor that will keep up, gamers should look for displays with the lowest possible response time, which is simply the speed at which a display switches an LCD pixel from fully active (white) to fully inactive (black) and back again (3).
The lower your time, the better, and a speed of 1ms (millisecond) is viewed as a solid standard. If you find a monitor with a low speed you should avoid the image ghosting and get a smooth picture when playing. 
Refresh Rate
A high refresh rate for a portable monitor is also something to look for. Most pro gamers use either 120Hz or 144Hz displays as a good benchmark. The number indicates how many frames per second it can display, i.e. 120 frames per second. Anything above 120hz will be ideal for any first-person shooter or competitive online gaming. 
This is a good measure of the speed you get with your display. Older displays typically ran at around 60Hz whereas now you may see them going as high as 240 frames per second. a higher refresh rate is to reduce motion blur as much as possible, something you will be after in fast-moving video games.
Connectivity
For the majority of flat-panel displays, you will be choosing between LCD and LED performance. The two have a lot of similarities.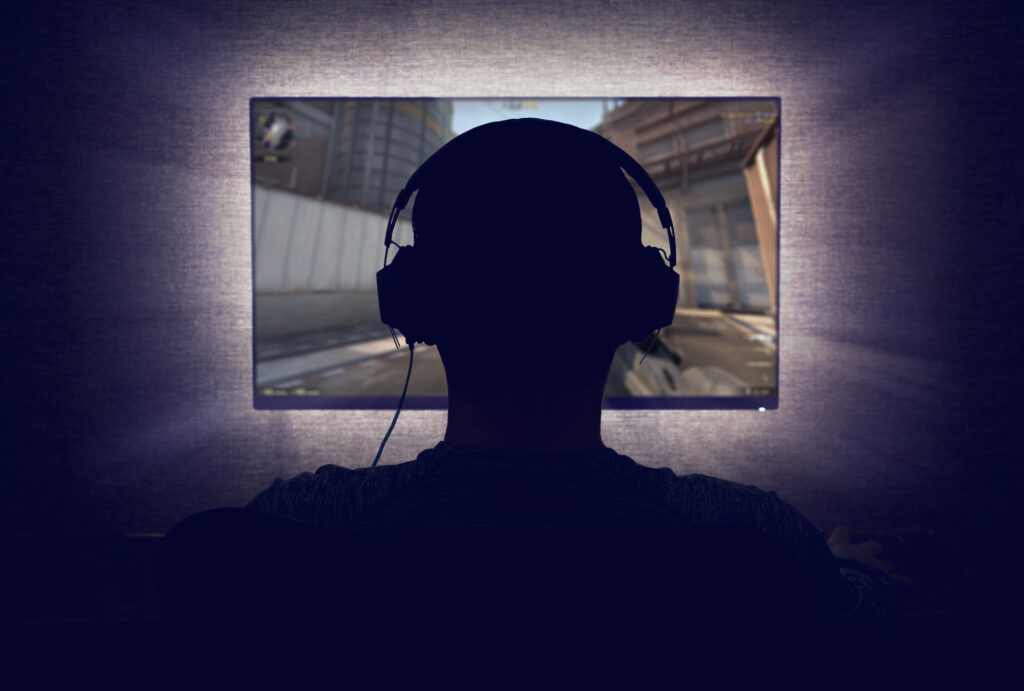 The ports you should expect to find are VGA, DVI, HDMI or DisplayPort though some newer models will have a USB Type-C connection. VGA and DVI are generally older now and HDMI and Display Port more modern and easier to use.
Can we play PS4 on laptop?
Most of the time, the answer is yes. Always be sure to check which ports are compatible with your gaming console or PC. Most of the current generation of consoles—including the Nintendo Switch, PS4, and Xbox One—will be HDMI-friendly, so this is a fairly safe bet.  
Can I use my Mac as a gaming monitor for a PS5? 
Yes, it is possible to use your Mac desktop for gaming on a PS5, but we would only recommend this to casual gamers. To do this, you will need to plus an HDMI cord from your console to an Elgato, then a USB cord from the Elgato to your Mac. Gameplay is smooth for casual gamers at 60 frames per second. However, you should expect some latency for competitive gaming.

Check Price
Display 
Most gamers agree that the bigger your monitor, the better. This will help you to see more detail and improve gameplay. There is a slight catch, though, because if you want a portable monitor, you'll have to weigh these needs against the screen size.
For professional eSports gamers, a popular size is around 24 inches, and it is possible to get displays with these dimensions that are also portable. This allows gamers to be fairly close to the monitor while seeing everything on it. 
For up-close detail, in-plane switching (IPS) panels are recommended for the best color quality and strong performance with wide viewing angles. However, some other types such as TN panels are rated as having a quicker pixel response.
Most of the monitors we cover use IPS technology so review whether you value the speed or quality of the monitor more highly if you look into this area.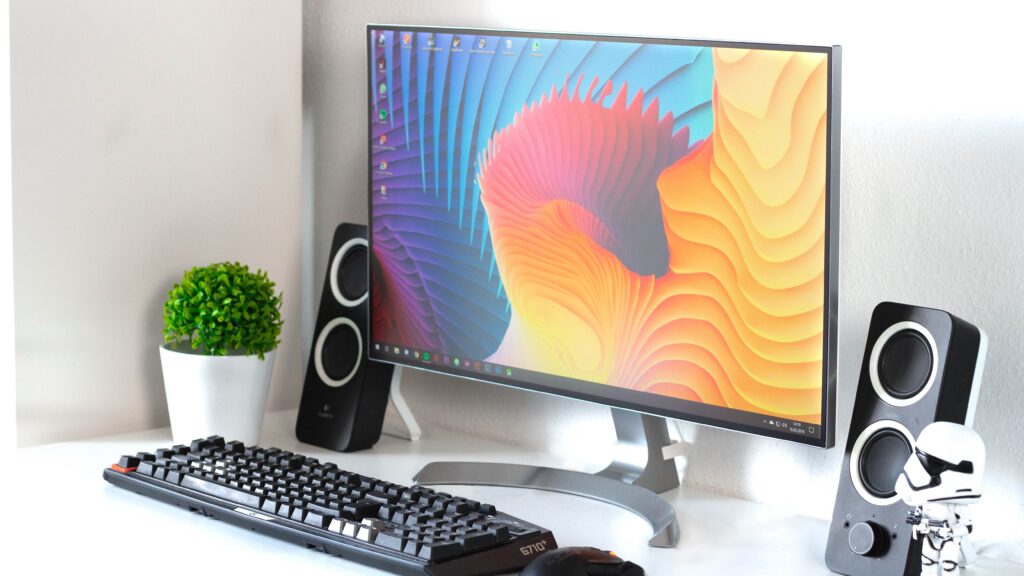 Contrast Ratio 
The contrast ratio is simply the difference between the lightest white and the deepest black that a monitor can display. You may see a ratio of something like 1000:1.
The highest possible is around 3000:1, and when you see monitors claiming higher than this it is likely to be a marketing scam. If you are looking at a portable monitor in person, be aware that the light levels in the room can also affect how clearly the contrast of the screen is displayed.  
Resolution
Size is often a determining factor for the resolution. A 24-inch display provides the chance to enjoy a Full High Definition resolution of 1920 by 1080 pixels. A 27-inch monitor offers Wide, Quad High-Definition or 2560 by 1440 pixels. A huge 30-inch promises Ultra-High-Definition (UHD) with 3840 by 2160 resolution.
In professional eSports, many players still opt to play with a 1080p display rather than 4K. There are several reasons for this, which include a higher number of frames per second and the dimensions of the monitor needed. 4K monitors generally demand greater computing power and can provide more work for your eyes. 
Color Performance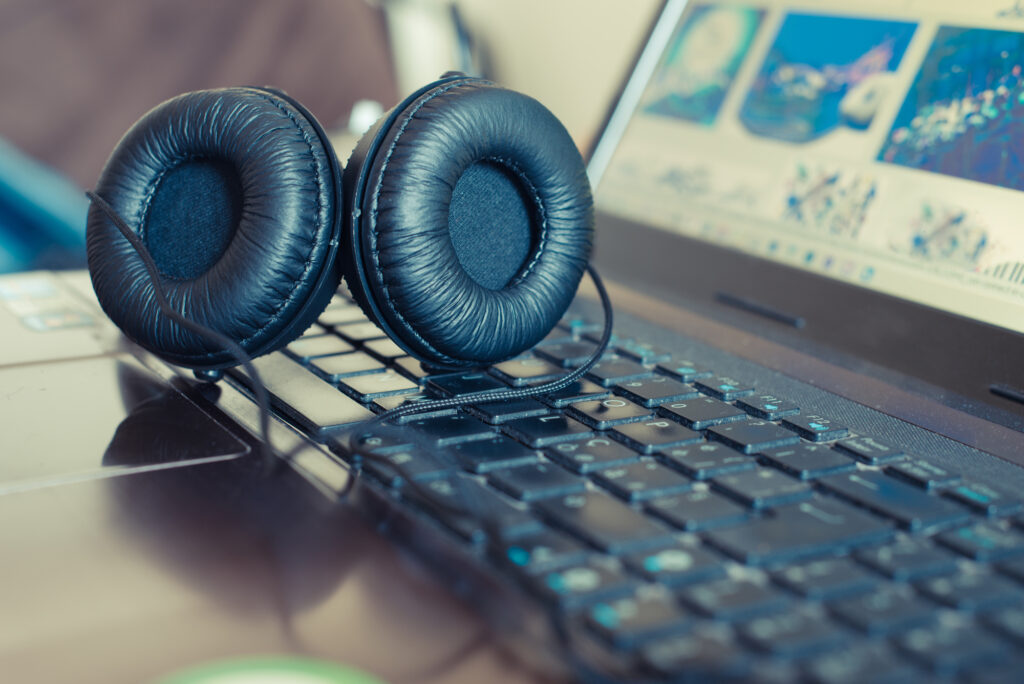 Color is obviously an important factor when choosing a portable monitor for gaming. You want the visuals of your games to be as punchy as possible, and good color performance is part of this. Several technical metrics can give a sense of how your monitor will perform in color.
sRGB measures how all internet content is likely to appear. DCI-P3 indicates how well a monitor reproduces the color spectrum for movies and TV shows. Adobe RGB can be used as an indicator of how a monitor is likely to do at displaying color accurately in software like Adobe Photoshop. 
Color accuracy can also be measured with another metric called "Delta E". This simply measures the distance between the most accurate orange possible and the one displayed by any given monitor. 
All of these factors will highlight different elements, but it may be worth looking at all three if you are likely to use your monitor for a variety of tasks. 
Power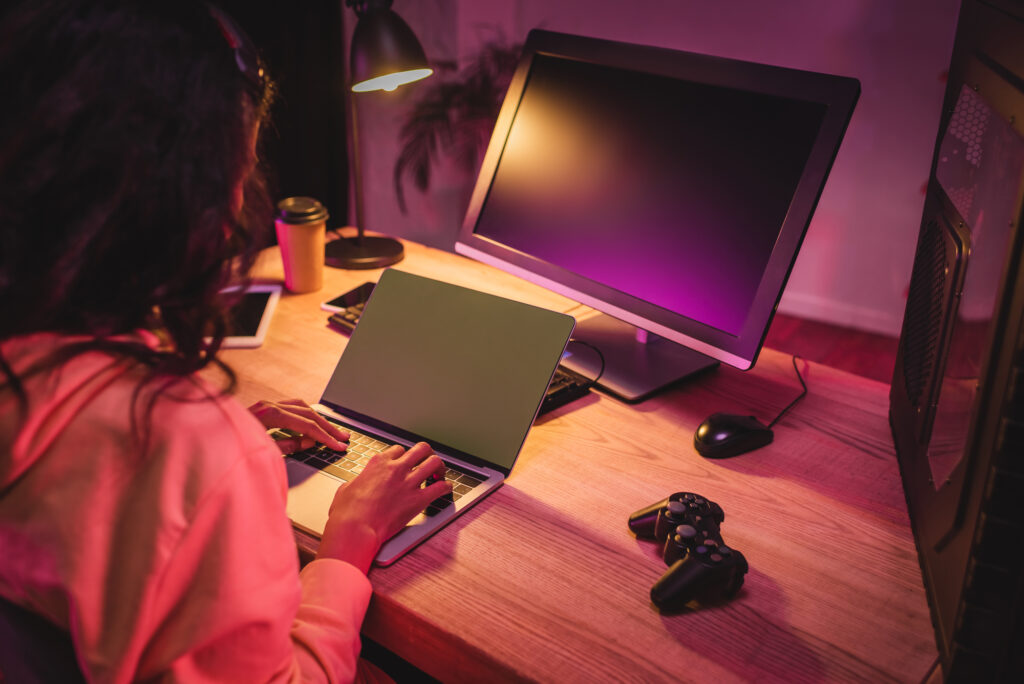 Power sources for portable monitors can vary widely. We have covered many which use USB Type-C technology, which is ideal for use on the go. The increasing availability and smaller size of power banks also deliver easier access to power on the go. 
USB-C technology has changed a lot in the world of portable monitors. This is because alongside transmitting data at 10 gigabits per second, this connection can transmit 100 watts of power at the same time.
Avoiding the need for large power packs and plug-in adapters has made portable monitors more portable and appealing. 
So, how do the best portable monitors for gaming in 2022 stack up (5)?
Top 9 Best Portable Gaming Monitor Reviews in 2022
Check Price
This portable monitor with HDMI from Huyouming packs in many of the features that those looking for a great portable gaming monitor will want. It has a Full HD IPS screen that uses eye protection that keeps your eyes from getting tired during long gaming marathons. It also runs graphics at 60Hz or 60 frames per second, a high standard for monitors. Plus, it has built-in speakers to ensure you get the best overall audio and visual gaming experience.
Product Specs:
Weight: 1.98 lbs 
Dimensions: 17.13 x 11.22 x 2.52 in
.13in headphone jack
Connectivity: Two HDMI ports
USB Type-C port compatible
1080p LED display
178-degree viewing angle
Built-in speakers
Pros:
Rapid 120Hz rating
Incredible High Dynamic Range images
Cons:
Won't support the transition to 4K gaming, playable with PS4 Pro and Xbox One X
Can connect your phone via USB-C port but not charge it
Limited portability due to plug-in power source
Why we love it:
Huyouming is one of the best and lightest portable gaming monitors. It features high quality visuals helping you to see a wider range of colors, details, and shades of light and dark. This will be great for modern games, such as The Last of Us, which pack in huge amounts of background detail to scenery, often in darkly lit settings. 

Check Price
This display is USB-powered and allows you to use the USB ports on planes and buses or even a portable battery. It weighs in at under 2 pounds, and it's equipped with anti-slip rubber feet on the back of the monitor. The Gaems boasts a 12-degree viewing angle. Display-wise you also get 60 frames per second guaranteed and a 1080p standard resolution. 
Product Specs:
Weight: 2lbs
Dimensions: 15.6 x 0.6 x 9 in
1080p resolution
Integrated speakers
.13in headphone jack
60Hz refresh rate
USB powered
Pros:
Highly portable with USB charging capabilities
Lightweight
60 frames per second refresh rate
Cons:
Single headphone jack limits the ability to play with a friend on the go
Why we love it:
Audio-wise, the M155 can work via its built-in speakers or a headphone jack, again making it a great option to take with you on the go. Its relatively small dimensions also mean it can fit easily into most laptop bags. It has a handy volume button, ideal for use when traveling. 

Check Price
Weighing in at under 2 pounds, the GeChic is a highly portable choice of monitor. It guarantees a High Definition 1080p display, great for gaming on the go without lugging around a heavy item. 
Beyond the technical aspects, this monitor includes a protective cover, but this is not attached to the monitor and doesn't work as a stand. The cover has some kind of clips but these are magnetically attached, which may make it easy to lose.
Product Specs:
Weight: 1.75lbs
Dimensions: 15 x 0.4 x 9.7 in
HDMI port
IPS panel
Rating Voltage: 5V-DC
Pros:
A slim 11 millimeters
Includes protective cover
IPS panel should give great image quality
Cons:
Among the more expensive 1080p monitors
USB-C port only provides power; not compatible with smartphones
Fewer ports than some other displays
Why we love it:
This is a highly lightweight option with an IPS panel, which not all 1080p monitors provide. It also gives you a protective cover in the box, making it ready to take with you straight out of the box.

Check Price
The Uperfect stands apart from the monitors so far with a 3200×1800 pixel 4K resolution. This is surprising to see a monitor of this size, but it's perfect for 4K compatible consoles such as the PS4 Pro and Xbox One X.
Product Specs:
Weight: 1.01lbs
Dimensions: 12.01 x 7.6 x 0.47 inches
Contrast: 800:1
IPS panel
Pros:
4K compatible 
Fast Micro-USB charging
12-month warranty
Slim – 1.2cm
Cons:
4K resolution may not be best appreciated while traveling or on a medium monitor
Why we love it:
The contrast of 800:1 with this slim monitor offers gives it the strongest technical credentials of any display we have covered yet. It also guarantees a refresh rate of 60 frames per second. The Uperfect also has a flicker-free setting. ensuring its picture is as smooth as possible.
All of this adds up to a high-quality visual offering that goes beyond a standard monitor for gaming and demonstrates that it is possible to pack in a lot of features into a compact package.

Check Price
The ViewSonic lists a unique selling point: the ability to recognize up to 10 points of simultaneous contact. This touch screen feature would be ideal for navigating menus or touch-integrated games. 
In terms of resolution, the ViewSonic offers a full 1080p experience, which should be up to scratch for most users hoping to get the full detail (1).  
Product Specs:
Dimensions: 19.3 x 11.8 x 5.1 inches
Weight: 7.9lbs
HDMI cable included
Power In: DC 19V/2.37A
Contrast: 1000:1
LED display
Touch screen
Pros:
Scratch-resistant surface
Blue light filter good for easing eye strain and late-night use
3-year limited warranty
Cons:
22-inches could limit the ViewSonic's portability
Why we love it:
At 22 inches, this monitor is one of the larger portable options. However, it's ideal for getting a gaming experience comparable to playing on a large TV when you are close to the monitor.
Commonly Asked Questions
Is Viewsonic A Good Monitor Brand?
If you're shopping for a new monitor, you will eventually find some brands you are not familiar with. Viewsonic may not be as big of a name as Dell or HP, but don't let that shake you. Viewsonic is considered a good gaming monitor brand. According to a survey PC Mag wrote about, Viewsonic was considered the Best computer monitor brand in 2020. Since then, they have stayed in the top few positions and remained a fan favorite.

Check Price
The ASUS monitor supports both landscape and portrait orientation, making it a versatile option for various apps and gaming styles. It also includes a Low Blue Light setting, something which monitors have not traditionally included (2). This adaptation to a mobile innovation will be appealing to those who suffer from eye strain with their monitor use. 
Product Specs:
Weight: 1.7lbs
Dimensions: 8.9 x 0.3 x 14.2 in
IPS Panel
Contrast 800:1
Pros: 
Includes a Low Blue Light setting, a nice addition from the world of smartphones 
Slim – the display is only .31in
Weight of just 1.7lbs makes it the world's lightest companion 15.6-inch display monitor in 2022
Cons:
Contrast may mean visuals are less impressive than other HD displays
Why we love it:
With both landscape and portrait orientation, this versatile option is great for gaming, mobile apps, and even as a photo viewing tool when not being used for gaming. 
The slim MB16AC only requires a single USB connection for both power and video link-up with its host device. This simplifies use greatly and saves you hassle. 


Check Price
This slightly larger portable monitor could be ideal for those looking for a particularly compact option. The Lepow Z1-Gamut 15.6in monitor is an ultra slim type-C and HDMI travel monitor that is great for gamers looking for a high quality, lightweight monitor. With an upgraded color gamut, increased brightness, and IPS screen, the Lepow Z1 Gamut USB C portable display delivers colors that are brighter, crisper, and even more natural.
Product Specs:
Dual speakers 
Dual .13in audio jacks
Weight: 1.70lbs 
Dimensions: 17.63 x 10.39 x 2.13 in
1920x1080p resolution
Wall mount
178° full vision angle
Pros:
The USB‑C/Mini HDMI port allows you to connect the portable monitor to all kinds of devices including laptops, phones, and gaming consoles 
Full HD 1080P IPS screen delivers an unmatched visual experience
Includes a smart cover stand
Cons:
60hz refresh rate may not be ideal for competitive online gaming 
Why we love it:
With dual audio jacks, dual HDMI inputs, and a wide viewing angle, the Lepow Z1-Gamut is a robust piece of technology that remains portable. It's a great system for gaming on-the-go that also works well for a stationary console. This monitor is built for gaming and streaming.

Check Price
This slightly larger portable monitor could be ideal for those looking for a particularly compact option. The G-Story 15.6in monitor includes a FreeSync feature, designed to eliminate any lag or glitches, especially useful for fast-paced first person shooters. 
Product Specs:
Dual HDMI ports
Dual .13in audio jacks
Weight: 5.29lbs 
Dimensions: 14.2 x 9.4 x 0.6 in
1920x1080p resolution
Wall mount
178 viewing angle
Pros:
Dual audio jacks ideal for two-player gaming on the go
Can switch between inputs easily with dual HDMI inputs
30-day free exchange
Cons:
On the heavier end of portable monitors – something to consider if you plan on traveling with it often. 
Why we love it:
With dual audio jacks, dual HDMI inputs, and a wide viewing angle, the G-Story is a robust piece of technology that remains portable. It's a great system for gaming on-the-go that also works well for a stationary console. This monitor is built for gaming and streaming.


Check Price
When you pair GAEMS's portable monitor with the Xbox One X, Xbox One S, PlayStation 4 Pro, or PlayStation 4, you can enjoy features like 3W stereo speaker, 3.5mm audio output, and an anti-glare screen finish. 
This portable gaming monitor offers a brilliant combination of a lightweight, easy to carry, sleek design as well as a quick 17.3″ FHD Anti-Glare IPS panel. 
Product Specs:
Weight: 13lbs
Dimensions: 16.9 x 4.2 x 16.7 in
Resolution: 1080p
HDMI Input
Integrated stereo speakers with dual 3.5mm stereo headphone jacks 
IPS panel
Refresh rate: 60Hz
Response time: 5ms
Contrast: 400:1
Pros:
Sits perfectly on top of the gaming console and matches its aesthetic
Less bulky than many other portable monitors
The size makes it highly portable
Cons:
The screen could be slightly small for those that want an immersive experience
Need for external power limits portability
Power input also needed for the gaming console
Why we love it:
The Gaems Sentinel Pro XP is far less bulky than options such as the Gaems' M155 monitor thanks to its ability to attach to your console.
The welcome inclusion of two headphone jacks makes it ideal if playing with others. It also features two speakers in case you want to play your game without headphones.

Best High-Resolution Portable 4K Monitor 
For professional gamers, it's not enough for a monitor to be portable—it needs to be high resolution as well to support live streams and intensive play. Here are the factors to consider in high-resolution 4K monitors.
Importance of High Resolution
Many people may wonder what the need for 4K is when High-Definition options already offer a significant upgrade and are widely available. However, in gaming, improvements in resolution are often more about practicality than aesthetics in the video. 
While 1080p and 4K image quality may often look similar, 4K packs in twice as many pixels horizontally and four times as many pixels in total. If you are not a competitive gamer that is hyper-focused on frame rate, 4K offers a far richer picture than you will be able to get with a 1080p monitor. Details such as the faces of characters and shadows are rendered with far greater precision in 4K. 
Experts say that the difference between 1080p and 4K is better appreciated when the viewer or gamer is closer to the monitor. Generally, you need to be sitting no further than 6.5 feet from a 50-inch TV to see the improvements that 4K makes on 1080p displays.
Reasons for Using a 4K Monitor
The jump in detail with 4K can be expressed via the pixel counts of displays. Whereas 720p displays had around one million pixels, a 4K display typically packs in around 8 million pixels.
The advantages of this are as you might expect in getting new levels of visual detail. This allows makers of games to pack in far more lifelike detail than they have ever been able to in the past. 
As gaming gradually shifts to 4K on consoles such as the PS4 Pro and Xbox One X, getting a 4K portable monitor could also help you to prepare in advance for games being developed in the near future.  
Note that pixel count is not the only factor in how a monitor will look. A monitor with great high dynamic range (HDR) performance, a better contrast, or simply better color means it will outperform monitors with just a high pixel count.    
Check Price
This NexiGo is one of the best portable monitors. It delivers a 2021 4k UHD 2160p resolution as well as an incredible contrast, making for a great picture overall. It also features a very narrow frame made of ultra light aluminum alloy to make it lightweight and easily portable as you travel.
Its 15.6 inch screen provides a richer and more vivid picture as well as better viewing angles so that you can see all of your content as you play. The NexiGo also supports multiple console options, making it a flexible portable monitor for any type of gaming. 
In addition to this, the USB Type-C full function ports allows for an astonishing throughput of 40 Gbps providing an exceptional image. 
Product Specs:
Dimensions: 13.9 x 8.5 x 0.19 in
Weight: 1.8 lbs 
3 in 1 display mode when connected to a computer or laptop
Resolution: 3840 x 2160 (4K UHD)
Dual Screen and Screen Extension compatible
Pros:
Clear, Vivid Picture 
Wide viewing angle
Fast response
Cons:
Small screen may not be ideal for an immersive experience 
Why we love it:
The NexiGo features performance technology unlike any of the non-4K monitors we covered. Many reviewers have attested to using this monitor for photography and graphic design as well as gaming, suggesting this monitor has a great level of detail. 
The NexiGo also features a wall mount and dual screen capabilities. This gives greater flexibility for how you want to use this display. The NexiGo is also extremely lightweight at only 1.8 lbs. 

Check Price
One of the unique selling points to the Cintiq Pro portable monitor is the interactive pen that it bundles with it. This could well be used with mobile games or menus and allow the monitor to double as a valuable tool for graphic designers. For those who edit their gameplays for subscribers, this monitor also offers two months' worth of access to Adobe Premiere. 
The display delivers a 1000:1 contrast, which should guarantee a great depth and richness to the image. However, you should know that the response is rated at 25ms, which could lead to lag when displaying video games, especially as 4K can put extra strain on processing power.  
Product Specs:
Dimensions: 16.14 x 10.43 x 0.7 in
Weight: 3.3lbs
Resolution: 3840 x 2160
Panel: IPS FHD
Contrast: 1000:1
Response: 25 ms
System requirements: Windows 7, Mac OS X 10.10 or later, Intel processor
Graphics input: USB-C compatible
Stylus included
Pros:
Three-year warranty
Multi-touch gesture capabilities
Built-in stand in the box
Cons:
Requires up to date operating system 
Slow response rate
Why we love it:
The Cintiq Pro features multi-touch gestures for easy navigation. You also get a built-in stand in the box, so you are treated well in terms of accessories. 
Both USB-C and HDMI inputs are supported, meaning this could be a great option for on the go as you can connect your smartphone. The size of the portable monitor would also suit this well as it would fit in the great majority of bags and cases. 

Check Price
G-Story has been making accessories for gamers for over eleven years now so has developed a winning formula. Many reviews from users say this portable monitor has outperformed their primary 4K screen. It features HDR, so it delivers an excellent picture.
For those who have a strong need for a picture that will keep up, the G-Story also has a specifically designed First Person Shooter setting, which will match the high-frame rates and speed of games like Call of Duty.  
Product Specs:
Dimensions: 15.5 x 8.8 x 0.45 inches
Weight: 4.58 lbs
Dual .13in audio jacks 
Resolution: 1920×1080 p
Response rate: 1ms
Contrast: 800:1
Pros:
165hz refresh rate 
Game mode can help you to perform better in FPS/RTS/FTG games
Incredible contrast
Cons:
Not the most compact or lightest monitor
Why we love it:
Alongside features to guarantee fast performance, G-Story has also developed Eye-Care technology. This is a flicker-free backlight that ensures the portable monitor is not uncomfortable to look at. It also includes a blue light filter to reduce strain on your eyes.
For compatibility, you get dual HDMI ports, which aren't always guaranteed and makes switching between activities far more simple. You also get dual .13in audio jacks for when you want to share with a mate. 
In case the monitor somehow disappoints, you also get a useful 30-Day Exchange window.


Check Price
The ARZOPA 15.6″ portable gaming monitor offers not only an accurate and vivid image with a 1000:1 contrast ratio but a 178° full view angle so you can get the most out of your content. 
The monitor easily connects to all gaming systems as well as laptops, smartphones, PCs, and Mac's making it extremely versatile for gaming as well as other uses. 
Product Specs
Dimensions: 14.48 x 8.85 x 0.35 in
Weight: 1.7lbs
Contrast: 1000:1
Resolution: 1920×1080
Display: IPS panel
Refresh rate: 60 Hz
15.6in Screen
Pros:
USB-C compatibility 
IPS panel delivers great images
Comes with eye care technology to protect your eyes
Extremely lightweight
Cons:
The screen size is an average 15.6in. This is not ideal for a fully immersive gaming experience. 
Why we love it:
This portable monitor includes a metal stand and HDR Mode. The monitor's weight is only 1.7 lbs, making it one of the lightest portable gaming monitors.
Additionally, the one-year warranty should help to put your mind at ease when transporting the ARZOPA monitor. 

Check Price
The 1000:1 contrast of the UPERFECT monitor should guarantee an impressive depth of blacks and sharpness of the image.
It delivers the quickest power supply when you use the DC12V 2A .13in adapter. This suggests it may not be ideal for portability as a USB connection. 
We also found that locating the buttons on the back of the monitor can also be somewhat annoying and seems a strange choice of placement.
At just over 2 pounds, this portable monitor isn't the lightest you'll find but should be suitable for carrying around with you as it is similar to many laptops. 
Product Specs
Dimensions: 14 x 8.9 x 0.4 inches
Weight: 1.9lbs
Contrast: 1000:1
.13in headphone port
Panel type: IPS
Response rate: 2ms
Pros:
3-in-1 USB-C integrates USB port, powering, and signal transmission
24-month warranty
Affordable
Cons:
No carry case provided, which may limit portability and may require an extra expense
Odd placement of buttons on the back of the monitor
Why we love it:
This lightweight portable monitor has an incredible contrast ratio and image and a rapid response rate. All of this adds up to a very appealing package for a portable 4K monitor. 

Check Price
At 13.3 inches, the Eyoyo could well suit some people looking for a highly compact solution or using their monitor for mobile designed games. For top-tier titles or first-person shooters, it may prove somewhat small and you may miss out on some details. 
It may also be difficult to truly appreciate the benefits that 4K resolution delivers on a monitor of this size. At the same time, it does manage to achieve a thickness of only .35in so is one of the slimmer portable options you will find. This smaller size also means it fits into Nintendo Switch cases.
Product Specs:
Dimensions: 14.3 x 9 x 3.2 inches
Weight: 2.93lbs
Contrast: 1000:1
Refresh rate: 60Hz
Resolution: 3840 x 2160
Panel: ISP
Dual built-in speakers
Pros:
Highly adaptable 178 degree viewing angle 
Very high contrast
Cons:
Fairly small display size 
Why we love it:
The portability of this Eyoyo monitor is one of the most immediately striking things about it as it weighs in at just 2.93lbs, considerably less than a lot of monitors in our round-up. The trade-off with this is that the monitor is considerably smaller than some others. It does, however, also fit neatly on top of a console like the PS4
The Eyoyo handily includes a leather case, which will provide great protection if you travel with the monitor. It also includes a remote, unlike many other monitors.

Check Price
Asus is a well-recognized name in the tech world, and the ZenScreen lives up to the brand's reputation.
The dimensions of this device are also impressively portable, coming in just above an iPad Pro for reference. It weighs 1.7lbs, which is not the lightest device we've covered but is undoubtedly still fairly portable. 
Product Specs:
Dimensions: 8.9 x 0.3 x 14.2 inches
Weight: 1.7lbs
Resolution: 1920×1080
Contrast: 1000:1
Response rate: 5ms
Panel: ISP
Pros:
Very lightweight making it extremely portable
Automatically senses orientation
Includes a magnetic cover that doubles as a stand
Cons:
Only one USB-C available, which may limit multi-tasking
Maybe more suited to functioning as a second screen for desktop tasks. 
Why we love it:
The aesthetic look of this monitor is worth remarking on as its back has a very sleek metal appearance. The ZenScreen is one of the more visually appealing monitors we've reviewed and stood out immediately.   

Conclusion
Whether you decide to go for a 4K or 1080p monitor, there is a whole host of factors to take into account before buying. Be sure to research the technical specs behind the product name and advert as these will make a huge difference, especially in terms of gaming. As we have focused on portable monitors, it is also key to look at weight, protection, and what kind of warranty you're offered.
Going for a cheap option may be tempting, but as these monitors are designed to give you the highest quality images available today, it is worth looking for an option that will deliver on this.
We hope you've enjoyed this guide and learned what to look for – happy gaming!
Commonly Asked Questions
Many people have questions regarding their portable monitors. Here are a few of the commonly reoccurring ones we thought would be helpful.
How Do Set Up My Portable Monitor?
So you went out and got yourself a portable monitor! The next step is learning how to use it.
Wandering Office has created an easy-to-follow, extensive guide on how exactly to set up a portable monitor, covering various models and brands. So no matter what you have in your possession, this page will be helpful to you!
The basic outline is as follows:
Make sure your monitor is plugged into a power source. For some, this is power over USB, for others, an outlet is required.
Next, power on both devices, your computer and monitor, and search the settings for the display. Results may vary depending on what brand you are using.
How Do I Clean My Portable Monitor?
Cleaning and maintaining a portable monitor is important in order to extend its life and keep that aesthetically pleasing look. Simple things like wiping it down with a micro-fiber cloth every few days is a good start.
Visit Wandering Office's Cleaning & Maintaining Guide for an exhaustive approach at getting the most from your monitor.