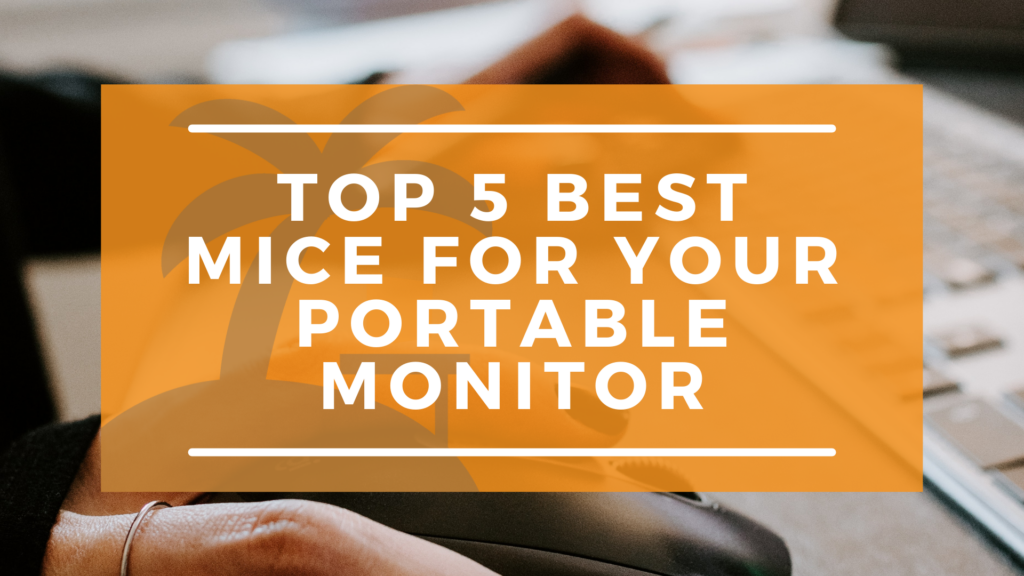 Portable monitors are an asset to people looking to get work done from the comfort of their homes, and it does excellent in expanding your workstation.
With these gadgets, you will get the word done anytime you please without having to be on-site. A portable monitor is an asset, but you must pair it with a top-notch mouse for added effectiveness. These mice are similar in make, and these days a lot of tech brands are producing them.
Here, we will describe the merits of using a computer mouse and its beneficial effects on your workflow. We will also showcase the pros of using a trackpad and why it has come to stay. We itemized and showcased five of the most effective and cheap mice on the market and what makes them unique. So if you're worried about what a mouse costs, don't worry! We packed a small list of low price items for you!
Benefits of Using a Computer Mouse
Here are the significant advantages of using a portable computer mouse.
1. It Makes for Efficient Office Working
Portable mice are assets for office workers looking to get the work done on the go, and they make work less tedious. That is because they help navigation in Microsoft office and other work apps. That would improve the speed, efficiency, and delivery in the short-term and long run.
2. Assets to Graphic Designers
Graphic designers are a unique bunch, as they are well adept at working with what is at their disposal. However, you'd be hard-pressed to find a graphic designer that prefers a trackpad to a modern portable mouse.
That's because these mobile mice help navigate graphics, modify them, and bring a different perspective to the table. What's more, they are less prone to being erratic compared to hypersensitive trackpad.
3. Serve as Capable Joysticks
Why purchase a joystick when you can get a portable mouse with extra controls? That's the drift, as mobile mice makers are getting more creative with their designs and models. Now, a portable mouse can serve as a joystick thanks to the sophisticated make, additional buttons, and soft touch. What's more, they exude versatility, and you can use them for more tasks than previously taught possible.
4. They Come In A Wide Variety
Everything from your typical wired mouse to compact wireless can be found in mice today. Gamers have one of the widest selections of mice, and many of them even light up.
If that is not your thing, there are travel mice made especially compact. Something emerging on the strange side is the vertical mouse. It's made to be a more comfortable grip to potentially reduce stress and pain in the wrist and arm.
Benefits of Using a Trackpad
Here are the significant advantages of using a stationary trackpad.
1. Most Often, No Additional Costs
There is no cost to using the trackpad, as it is inbuilt with the laptop; hence you won't have to purchase a separate mouse. Trackpads come with the computer; as such, you can use your spare money to buy other essentials for your workflow. They also come in pretty handy, especially if you are a member of Gen Z and learned how to use a computer with a laptop.
2. Versatility of Usage
You can use a trackpad anywhere and everywhere, and the is nothing like a limitation in this scenario. Trackpads are pretty cool, as you do not need the surface to be flat to get to work. What's more, there is no need to set it up tediously, and you won't be sacrificing a USB port in the process. Trackpads are part of the modern guard taking the computer industry to greater heights.
3. No Need for Extra Baggage
With the trackpad, you get the same functionality without the hassle of carrying or plugging in a mouse. It might sound like a put-down on the noble mouse, but rather it's a significant bonus on the path of the trackpad.
The trackpad is one of the tools that epitomizes portability, as its efficient use assures that you don't have to carry extra luggage (the mouse) everywhere you go. That helps in several ways, and it is an asset for modern tech enthusiasts.
The Best Mice the Market Has to Offer
Straight from the Verbatim store, the Verbatim USB Corded Mini Travel Mouse adds flexibility to your travels and extra efficiency. It has a plethora of features that would assist in getting the job done.
These features include the small, ultra-portable design with a sleek, glossy finish that helps in portability. Then there's the easy-to-inducing USB connection, as you can connect this device to PCs and Macs. What's more, the Verbatim USB Corded Mini Mouse possesses a high-resolution optical technology that makes for smooth and precise tracking.
Check Price
Pros
It is portable and practical.
It is compatible with most external devices.
It has a sleek and elegant design.
Con
They should improve their durability feature.
The Logitech Wireless Mini Mouse is an asset for people working from home and looking to build a proper home workspace. It has an array of must-have features, and we will itemize a couple. First off, there's the 2.4 GHz wireless connection that provides a robust, reliable connection.
What's more, there's the compatibility specification, as it is operational with Windows Vista, 7, 8, 10 and Mac OS X 10.5, Chrome OS, among other devices. This Logitech Wireless product is also extra light, portable, and it is more durable than an array of its contemporaries.
Check Price
Pros
It is the perfect shape and size for a laptop bag.
It is extra versatile.
The packaging is top-notch.
Con
It does not have a USB Type-C port support.
The Ergo Trackpad is a portable trackpad that showcases the versatility that a modern trackpad can possess. It has an array of top-notch features that would be an asset to any tech enthusiast worth his marbles.
The USB wired is small, thin, super stable, secure, robust, water-resistant, and has a reliable 6 foot USB Cable that makes for easy connectivity. Furthermore, this trackpad has ergonomic features that are compliant with today's industry standards. What's more, the Ergo Trackpad lets you move the cursor with ease, efficiency, and readability.
Check Price
Pros
It has a feather-like touch.
It is compatible with an array of devices.
It is easy on the eyes.
Con
The durability could and should be improved.
If you are looking for a state-of-the-art gaming mouse, you don't have to look further than the Razer DeathAdder V2 Gaming Mouse. This fascinating tech prospect ticks a lot of gamer boxes and offers versatility for tech enthusiasts. It has immersive and customizable Chroma RGB Lighting that supports over 16.8 million colors.
Then there are the eight programmable buttons that allow for button remapping and assignment of complex macro functions through the Razer Synapse 3. The Razer DeathAdder V2 is also significantly faster than traditional mechanical switches, and it ticks the durability box.
Check Price
Pros
It is the best gaming mouse on our list.
It is incredibly comfortable to use.
It has a magnificent design.
Con
They should improve their software.
Wired gaming mice are in high demand, and the Redragon brand is doing a great job at supplying gamers with what they need. The Redragon M602 RGB Wired Gaming Mouse RGB Spectrum possesses many features that improve the gaming experience.
There are five memory profiles, each with a specific LED color option for quick identification. Also, there's the comfort it assures, as it ticks all the ergonomic boxes. Furthermore, the Redragon M602 has a built-in weight tuning for the right balance and an anti-skid scrolling wheel for added efficiency.
Check Price
Pros
It is highly durable.
It represents excellent value for money.
It has a top-notch design.
Con
The proper side finger rest could and should be improved.
Final Thoughts
Monitor mice and trackpads are assets for people working from home and those looking to switch it up a bit. There are numerous ones in the market, but we have showcased the best of the bunch. Now it's up to you to make a clearcut decision from the options we have presented. We are sure you'll make a guided pick.