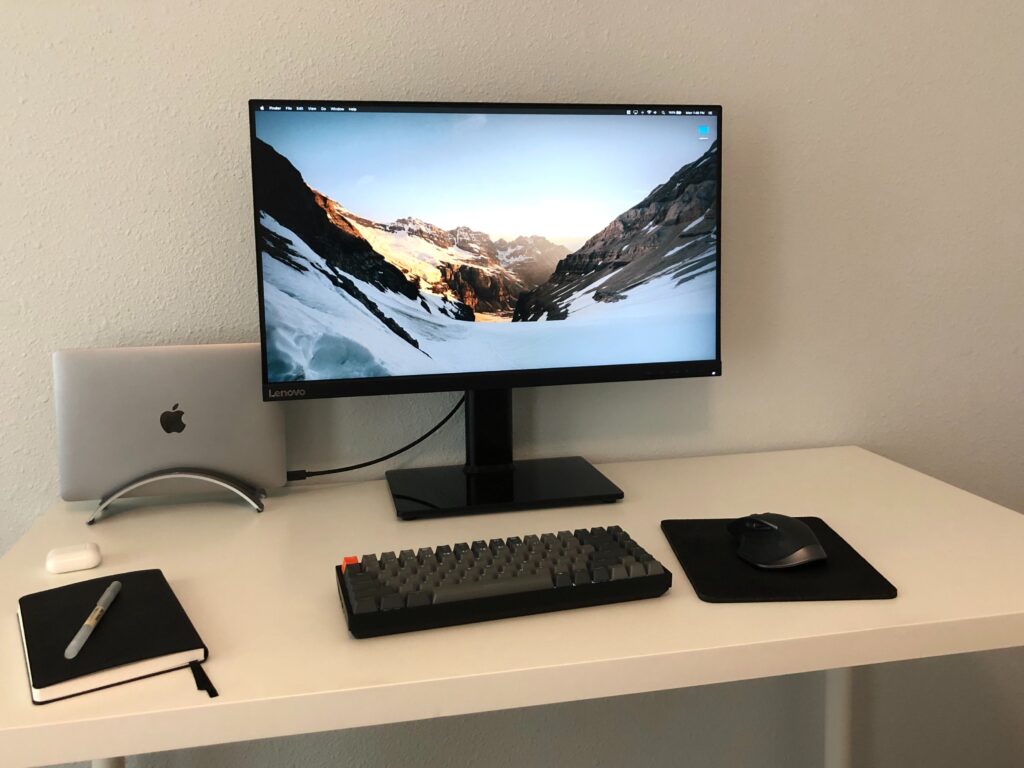 To get the best out of your laptop or PC, you would need a computer monitors with cable inputs, either HDMI, VGA, or DP. You need either of these to make your computer fully working. However, there is one input that stands the most- the HDMI.
The HDMI supports HD videos and sends the HD videos and audios through the same port. It's much easier to obtain, it's lighter, much faster and very responsive compared to the VGA. It delivers those crisp 1920 x 1200 image resolution and it also uses 8 audio channels at the same time. In other words, getting an HDMI cable will benefit your PC experience. I'm pretty sure that all of the monitors are supported with HDMI and if not, there are some choices that you can choose from- there's still the old VGA and the DP. We're now going to talk about the best computer monitors with an HDMI input.
ASUS VT229H
First on the list of our computer monitors with cable input is the ASUS VT229H. This monitor is a touch screen monitor that's good for working in the office without the hassle of dragging your mouse just to close that excel sheet. This monitor is a 21.5″ full HD IPS panel with a stunningly wide 178 degree viewing angles and it weighs around 8.45 punds. If you're looking for a beautiful monitor, this one is for you. It has a 10-point multi-touch capacity that features 7H hardness screen that will give you that smooth and durable touchscreen feeling. The monitor is windows 10 compatible.
Buy on Amazon
Pros
Its frameless design is very suitable in all kinds of multi-monitor setups. One of the greatest feature that this monitor has, is the eye care monitor feature. This is a shout-out for all the people that are working 9 to 5 in front of a computer, or just a hardcore gamer. ASUS made sure that this monitor will reduce eye strain. ASUS combined the hardware and firmware changes so that people who gets their work done in a computer won't be exposed to blue light radiation. This monitor has a software that lets you control a multi-level low blue light filters that's accessible through the on-screen display. This just shows that ASUS really cares about its consumers.
Cons
The only problem that I have with this monitor is that you have to adjust the gamma settings to bring out the most of any image that is displayed on the monitor. In addition, it tilts to only 20 degrees, which makes it difficult to be comfortable when you want to draw or just simply type,. It also lacks display ports and USB ports, which in my opinion, every monitor should have those kinds of ports built in to them- especially with this kind of price range.
Acer SB220Q BI 21.5″ Full HD
Second to the list of our computer monitors with cable input is the Acer SB220Q. In my opinion, this monitor is every gamer's dream. For a cheap price, you can get an IPS panel with a 7Hz that has a 4ms response time and it weighs in at 5.60 lbs. I mean, everybody still has that 60Hz in their setup, but to have a monitor like this at a cost of $90 on Amazon? You're going to get a whole lot for your buck.
Buy on Amazon
Pros
The monitor has a built-in Radeon freesync technology that will put an end to choppy and broken frames, with fluid artifact free performance at any given framerate. In addition to the freesync technology and a slightly faster than that 60hz refresh rate, there's one feature that's worth mentioning- the off-screen display has all the features you need and it's pretty easy to navigate. Then, there's a framerate counter that you can turn on the top upper-right corner. As far as color goes, I am astounded with this monitor for everything that's displayed in here is pretty crispy. One of the greatest thing about this monitor is how clean it looks. If you try to browse on Amazon and search for a $90 monitor, you would be welcomed with a lot of super old monitors that has thick edges.
Cons
In this part, you can really tell that it's a $90 monitor. Acer really brought it on out what's inside of the monitor then just took off and forgot about the outside. The tilt angle is only 15 degrees and has no other adjustments, but that's what you expect out of a $90 budget monitors. On the back, there's only the power, HDMI, and VGA port. So, if you're rocking the Display Port for the last 3 years like everybody else, then you need to buy an HDMI cable for this kind of monitor.
We've been talking about computer monitors for the whole duration of this article, now we are going to talk about monitors that are for tablets.
Sunfounder Raspberry PI Display
Lastly, in our list of the computers monitors with cable input is the Sunfounder Raspberry PI Display. This cute little monitor gives the user the power to create any integrated projects in tablets, infotainment systems and embedded projects. You can turn your raspberry PI in to a touch screen tablet, infotainment system, or just a stand alone device. It has a 800 x 480 display and it connects via an adapter board and the adapter board handles the power and signal conversions. Touchscreen drivers supports 10-finger touch sensors and an on-screen keyboard will be integrated in to the latest OS of the Raspberry PI so that you can use the device without the hassle for finding a keyboard.
Buy on Amazon
Pros
The highly tested screen is suggested for every raspberry PI boards because it's made by them and it's a great quality type of monitor if you're just looking to do minimal things on it.
Cons
However, although it's compatible with all the Raspberry PI boards, the line up installations is only good enough for Raspberry A+, Raspberry B+ and Raspberry Pi2
All of these monitors are bang for the buck, depending on what you want to do on them. The Asus SB220Q stands out in the list for it's a remarkable monitor. Although it brings a few set backs, given the specs that the monitor has on the inside, I can say with confidence that it's worth it to have one in your set-up.