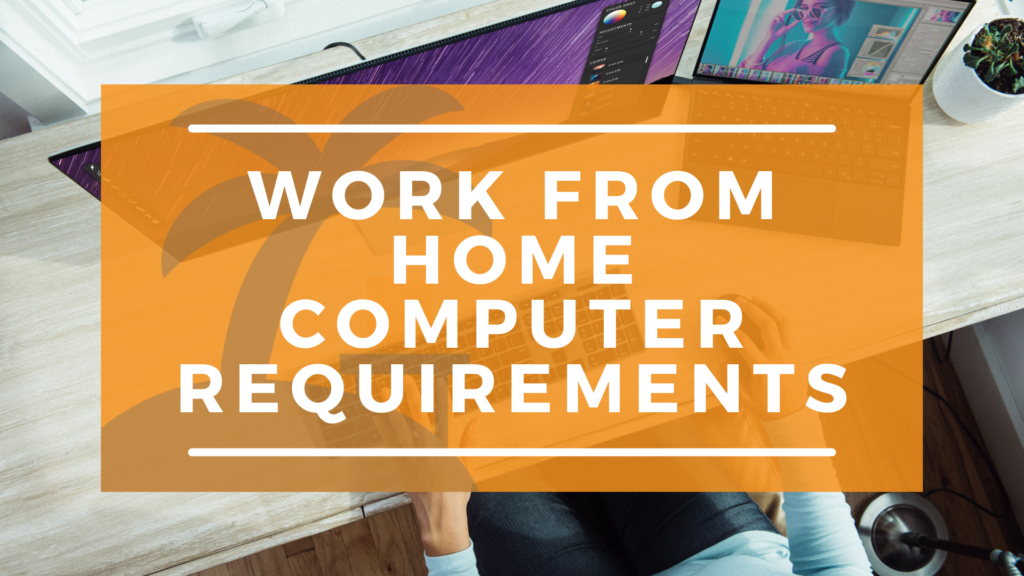 Working from home has taken shape over the years, and it is now a viable substitute for working in an on-site facility. Many things go into creating a proper workstation at home, so it is important to know all of the work from home computer requirements. Knowing and fulfilling these requirements will provide the best working experience. Furthermore, you will need to purchase various devices such as monitors, laptops, keyboards, and the likes to make working from home possible.
Here, we will be highlighting and discussing the work from home requirements in the clearest of terms and how to be on the safe side when it comes to choosing the right technology. Remote working can be a refreshing change for most employees, and in most cases even helps boost overall productivity. So, without much ado, let's take a look at work from home computer essentials.
Desktop
A desktop is an essential part of an office workstation, as it is the device that comes in handy for most any type of office or creative work. Desktops come in different shapes and sizes, but the most important thing is that you get one that fits on your home office desk properly. A top-notch work from home desktop can be purchased either online or from your neighborhood electronics store.
Furthermore, the specs of the said desktop depend mainly on the sort of work you do. That's because the graphics card for graphic designing is miles higher than one for mere word processing. Hence, if you are ordering your desktop on the internet, it would do you a world of good to go through the production description page, the comments section, and review articles of the said product.
Also, it wouldn't be a bad idea to consult a tech expert to be on the safe side. Speaking of which, here are the required and recommended specs for remote working desktops.
1. Required Specs:
2. Recommended Specs:
Processor: 10th Generation Intel i7
RAM: 16GB or more
Storage: 512GB SSD or more
These days, laptops are more of a necessity rather than a luxury, and professional remote workers can attest to the fact. Such workers are known to travel more freely than their onsite colleagues, so it's only fitting that they have a portable workstation. The most portable of such stations is a laptop, and these technological assets make everything simply unique. You can store files, videos, images, and tasks on your computer.
You can attend meetings, conferences, symposiums, and online office hangouts on your laptop. What's more, you can play video games, stream movies, and engage in other forms of recreation on your laptop. However, it is essential to note that different laptops are preferable for various tasks. Remotely located graphic designers, gamers, and website developers are advised to go for higher specs. At the same time, orthodox remote workers can make do with the standard specs.
These days, many top-notch laptop brands are upping the ante, going the extra mile, and ensuring that every profession is represented at the work table. It's simply up to you to make a pick, save up, and go ahead to purchase it either online or in person. Here are work-from-home laptop requirements.
1. Required Specs:
2. Recommended Specs:
Processor: 10th Generation Intel i7
RAM: 16GB or more
Storage: 512GB SSD or more
External SSD or HDD is an option as well
Monitor
The monitor is the brain of a remote workstation, and it has a plethora of features that reinforce its importance. This gadget can store multiple files, documents, and tasks that can either make or mar a business. It also serves as the screen for a workstation, as it is on this device that you can maneuver tasks and assign the likes to your office mates.
As such, purchasing a proper or, better still, top-notch monitor for remote should not be compromised. Instead, you should take some time to choose a fitting monitor and pay attention to the slightest details. Furthermore, it is essential to note that in terms of purchasing monitors, it is not always the case that the more giant, the better, as smaller monitors are preferable for gaming and other mundane tasks.
However, in terms of streaming movies, graphic designing, and related occupations, wider inched screens would tick the box. Here we will be showcasing the required specs for a workstation monitor and the recommended specs for the chosen device.
1. Required Specs:
Resolution: 1080p
Size: 24in
2. Recommended Specs:
Resolution: 4k
Size: 27in
Additional Features: Height Adjustment
Mouse and Keyboard
These devices go hand in hand, and it would be equivalent to self-deceit to purchase a remote mouse without a corresponding tiny keyboard and vice versa. These tools play a significant role in setting up a small workspace, as they are to be connected to monitors and occasionally laptops. A proper keyboard should have certain features like backlit, durability, accessibility, and ease of cleaning.
On the other hand, top-notch mice should possess qualities such as durability, ergonomic facilities, comfort of use, and ease of packing. These devices were pivotal in the past decade, even though Gen Z remote workers mainly go for simple laptops. Keyboard and mouse combos have to have a plethora of specifications, of which we will furnish you in a moment.
1. Required Specs:
Something Generally Comfortable
Shape: Ergonomic (You Will Thank Us Later)
2. Recommended Specs:
Bluetooth Mouse and Keyboard (Don't forget Rechargeable Batteries)
Mechanical Keyboard
Final Thoughts
Working from home should not be so harsh, so long as you go about it the right way. The first step to building yourself and your remote workstation is purchasing the tools for the task. We have highlighted four of the most important tools to utilize and required and recommended specs to improve your productivity.
The best part is that all of the work from home gear above can be purchased online or from your neighborhood electronics store with remarkable ease. You do not have to go out of your way to get any of the above simply. However, if you are still finding it difficult to purchase any of the above, then you can consult your resident tech expert to point you in the right direction to look.
Remember, never go below the required specifications for work from home equipment, as doing so would diminish the quality of your work, give you a bad look, and mock the fact that you are working from home.
You wouldn't want to be the reason why everyone gets recalled to the onsite facility, would you? Now, the ball is in your court, and it's high time that you put your skills and our advice to good use!