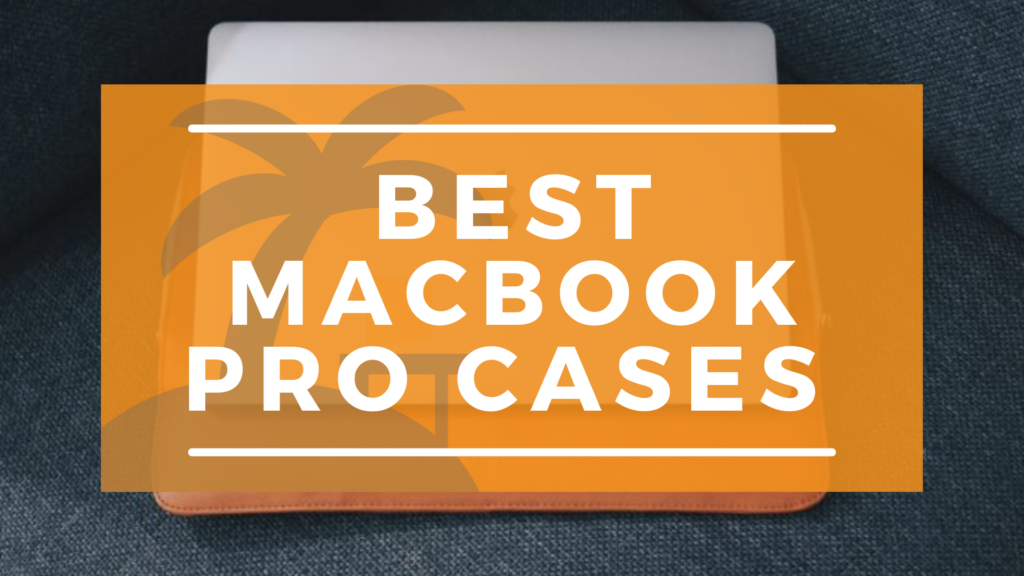 The MacBook Pro is one of the most popular Laptops globally, and it is one of Apple's most loved products. It is sophisticated, versatile, light, exquisite, and it gets the job done with remarkable ease and class. Apple created the first edition in the early 2000s, but it has become more sophisticated over time, eventually leading to tech domination and great critical and commercial acclaim.
However, just like most fantastic technological inventions these days, MacBook Pros could be fragile, and the slightest fall might ruin it or adversely affect its lifespan. That's why MacBook Pro users are advised to purchase laptop cases that would prevent their treasured possession from an unforeseen conclusion, and that's why it's important to know how to store, protect, and maintain your laptop.
Here, we will be describing the benefits of having a case for your Macbook Pro, especially as an added layer of protection while you travel. We will also be telling a couple of the best Macbook Pro cases around, their benefits, and some of their unique features.
We will then conclude by picking the best protector case for a MacBook Pro, and at the end of the piece, you'll be able to make a calculated decision! So without further ado, let's get to picking a protective case for your high-powered MacBook!
The Benefits of Having a MacBook Pro Case
MacBooks have more or less been in the spotlight since they first dropped in the market, and the Pro version happened to be a masterstroke. So it only fits that you do everything in your power to ensure that it doesn't get scratches, problems, and anything that can make it remotely less efficient. So here are some of the benefits of having a MacBook Pro Case:
1) Prevent Shock Damage
Even though MacBook Pros are simply extraordinary, you should note that they are still mere electrical appliances and proper gadgets. As such, it will only be a matter of time before a device packs up after it has sustained a couple of hits.
The MacBook Pro is not different, and things such as light brushes, falls, and the rough treatment from your toddlers would eventually rear their ugly heads.
As such, it only fits that you go ahead and purchase a quality protective case, something that can cushion the effect of the fall now and then. That way, your MacBook Pro would last way longer, and fingers crossed, you'll not need to visit a laptop repairer anytime soon.
2) A Fresh Look
People that use MacBook Pros without cases are playing a losing game, as it's only a matter of time before the MacBook looks old, and the flexing would come to an abrupt end. However, with a good case, hardly anyone would know if your MacBook Pro is new or old; more so, that's a great way to represent something you identify with.
There are numerous options on the market ranging from sports oriented to music, arts, education, and many other great options. The choice is yours, and it's something that would give your MacBook Pro a new, fresh, and deserved a look.
3) Protects against Liquid Spillage
MacBook Pros aren't charitable donations, they are pretty much the most expensive of all laptops on the market, and they should be treated as such.
That's why it would be a brilliant idea to purchase a MacBook Pro Case, just in case water or drinks get spilled on the laptop.
Won't it be horrible if you have a deadline you're working with on your MacBook Pro, and a sibling of yours spills some Pepsi all over your MacBook?
It won't be such a big deal if your MacBook Pro has a protective case over it. However, it's much more than a big deal if your MacBook has no protective case to save the day. "
The last thing you want when you have approaching deadlines but need to perform emergency surgery to remove the years of dirt build-up." It only takes a split second for hot tea to get spilled all over your workstation, that's something that we must strive at all points to avoid, and thankfully laptop cases do just that!
Reviewing the Best MacBook Pro Cases
They are numerous MacBook Pro cases in the market, and they vary in quality. Here, we'll be showing the cream of the crop, and the best in the business, so make sure you pay attention and purchase one of the following:
1) Fintie Protective Case
The Fintie Protective Case is MacBook Pro royalty, and you might have to hurry up before it flies off the shelves as always. It has many admirable features, such as the "premium synthetic leather exterior with hard polycarbonate shell interior that guards against fingerprints, slipping, and scratches."
Check Price
Then there's the ease of use, as this case is pretty easy to remove and easier to take off, assuring no scratches on your treasured possession. Furthermore, this protective case is available in numerous colors, and as a buyer, you'll be sure to be spoilt for choice!
2) Pelican 1085 Laptop Case
There's are reasons why this MacBook Pro Case is one of the costliest on the list, and most of these reasons are what makes the Pelican 1085 Laptop Case so sought out for and special. Some of the Pelican 1085 Laptop Case's best features include the following. First off is the water and dust protection it assures, as using this case would go a long way in ensuring a longer lifespan for your treasured MacBook Pro.
Check Price
Also, there is the "customizable Pick N Pluck foam and convoluted lid foam," a masterstroke from the Pelican brand. Last not certainly not the least is the versatility and compatibility it assures, as this case fits most MacBook Pros in circulation, with only a few older exceptions being on the market.
3) Twelve South BookBook V2
Like the saying goes, "why to go for one when you can get a dozen," the Twelve South BookBook V2 perfectly personifies that saying, and you'll be hard-pressed to find many MacBook cases like the ones at Twelve South. This MacBook Pro Case knows\what the clientele wants, and here are a couple of their most essential features.
Check Price
First off is the unique feature that is the BookBook, which enables your MacBook to be concealed as a vintage book, thereby giving it an extra layer of protection. Then there's the "hidden pocket inside allows you to store papers or a document between meetings or during your commute."
Also, this MacBook Pro Case is stacked with "two hardback book covers and a rigid spine that help protect your treasured MacBook with impact absorption." That's just the tip with the Twelve South BookBook V2, and fingers crossed, the version would be even more spectacular.
4) IBENZER MacBook Pro Case
Smooth, sleek, selective, and sophisticated. The IBENZER MacBook Pro Case is a luxurious proposition, and it is a go-to for MacBook Pro owners looking for elegance in the truest sense. It has a wide array of features that would make any MacBook Pro user leap for joy, and here are a few.
Check Price
There's the "ease of installation, coupled with the protective cover has micro clips that securely fastens to your Mac Book Pro 13 Case, and snaps off with easy when needed." There's the exquisite exterior that exudes class in the most accessible form, giving your MacBook a transparent yet generational feel.
Furthermore, you'll be enjoying remarkable value for money, as this MacBook Pro Case is one of the least costly on our list. Yet, it doesn't sacrifice anything in usefulness or versatility.
5) UAG Military Drop Tested Laptop Case
For MacBook owning military enthusiasts, this MacBook Pro Case would be a masterstroke, and for casual laptop owners, this case is still one of the grandest on the market. It has a bevy of sustainable and incredible features, and we'll be touching a few.
Check Price
There are thick and rigid armor shells and impact-resistant bumpers that protect the MacBook from sharp falls and detrimental bumps. Also, there's the "tactile grip that provides secure handling even in wet or slippery conditions, making for a beneficial proposition for the majority of the population."
Last but surely not least is the compatibility that it assures, as it's nice for numerous MacBooks, thus making it a cult favorite in the largely selective industry.
Final Thoughts
Picking a MacBook Pro Case is one of the easiest yet tasking things that you could think of. On the one hand, it's pretty easy to like a design and go for it. However, on the other hand, you'll need to find one that is compatible with your system, protecting your system from bumps and bruises and one that is durable enough to last for a while.
The cases above tick all the boxes, so all that's left for you is the former, which is to pick one of your choices and get it perfectly installed on your treasured MacBook Pro.
Amongst the cases reviewed, the best of the lot is undoubtedly the Twelve South BookBook V2, as it exudes so much class that we couldn't think about handing the honors to any other case. The most astonishing part is that this case had numerous compartments, so you'll be able to do way more with it than with the others on the list.
Putting a claim on your MacBook is extremely important, and we advise you to get that done as soon as possible. It's your choice whether to get a case or a sleeve for the MacBook Pro, but we sincerely advise you to consider the former. There's no going wrong with a finely made MacBook Pro Case for the ages!