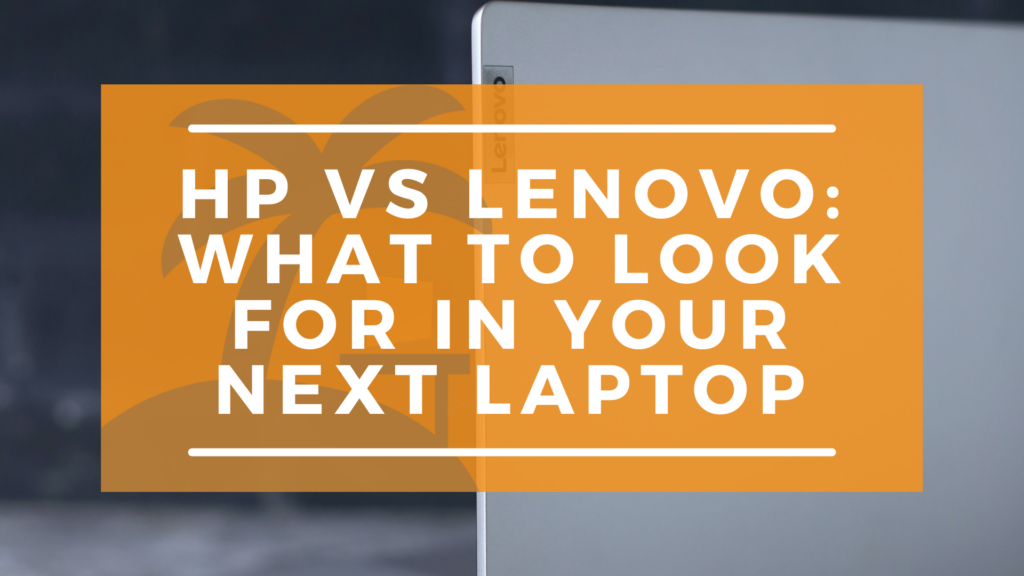 The selection of models supplied by each firm, as with many other laptop makers, offers just about everything you could desire in a laptop. Apart from Apple and Dell, Lenovo and HP are the two most popular laptop manufacturers, making it tough to select between them.
Here's a rundown of the latest Lenovo and HP models and their present features.
Let's Get to Know the Brands
Lenovo
Lenovo Group Limited is a Hong Kong-based public Chinese technology and manufacturing corporation founded in 1988. Lenovo's global headquarters are located in Beijing, China. Liu Chuanzhi created Lenovo Group on November 1, 1984 in Beijing, China.
Lenovo is a company that makes, markets, and distributes computers, tablets, workstations, smart televisions, smartphones, printers, laptops, and other electronic and mechatronic equipment.
Lenovo is not a generic brand. Internal roll cages, Active Protection System, Enhanced Experience, and other technology distinguish Lenovo's devices. Lenovo produces the ThinkPad, which is by far the most well-known laptop system for businesses and enterprises throughout the world.
HP
HP is a publicly traded American computer and technology corporation. The moniker "HP" was derived from the founders' names, Hewlett and Packard. HP was formed on July 2, 1939, in Palo Alto, California, in the United States of America.
Printers, digital cameras, scanners, software development, tablet computers, laptops, desktops, mobile phones, servers, and pocket personal computers are all HP goods.
What to Consider When Choosing Between HP and Lenovo
The ideal laptop is one that meets your budget, comes with a support warranty, and offers features that are appropriate for your work or play.
Budget
When it comes to purchasing a new laptop, the price is the first consideration. A laptop is an investment that should be made over time.
Many Lenovo and HP basic laptops now offer fantastic digital experiences for a fraction of the price.
Laptops from Lenovo and HP are reasonable and budget-friendly, however, prices vary depending on usage. HP gaming laptops, for example, are less expensive than Lenovo gaming laptops. Due to the HP name, HP laptops are generally more expensive than Lenovo laptops. However, HP does offer the smallest and lowest cost travel laptop on the market
Design
Lenovo laptops are noted for their sleek flip design and lightweight, whilst HP laptops are known for their durability and high-quality components. A Lenovo ThinkPad is the best way to go if you're searching for a casual, business, or everyday laptop.
Performance
Lenovo and HP laptops have the same amount of processing cores in their operating systems. There is also a tie when it comes to RAM between laptops. Both laptops use the universal "Windows" operating system, however, Lenovo has a larger selection of operating systems.
Graphics
When it comes to gaming and graphics cards, the HP brand frequently uses a single graphics card to save battery life, however, this provides a barrier or obstacle when using resource-intensive programs. On the other hand, Lenovo laptops come with two graphics cards.
Advantages and Disadvantages of HP Laptops
Advantages of HP Laptops
Travel-Friendly: The built-in HP laptop battery is lightweight and compact, making it simple to move from one location to another.
Cost: The HP laptop is reasonably priced.
Accessibility
It's well-made and stylish.
Internal Processors are high quality
Maintain a safe environment
No Peripherals Required: The laptop is simple to use and does not require any additional equipment. It has a built-in keyboard, a built-in mouse (touchpad), built-in speakers, a built-in microphone, and a built-in camera on certain HP laptops.
Disadvantages of HP Laptops
Sensitivity
Slower Processor
Performance: Typically these laptops perform best when used for commercial or work use rather than personal use. They include many functionalities that may not be as practical for everyday use.
Battery
Updates: All HP laptops that have an operating system will update periodically as needed. This update is applied to everyone without much user preference depending on the urgency of the update.
Aero 13 Pavilion
The Pavilion Aero 13 is one of HP's most popular laptops.
The HP Pavilion Aero 13 isn't your typical Pavilion notebook. The Pavilion Aero 13 is eye-pleasing with a magnesium-aluminum chassis, strong processing performance, long battery life, and a bright, colorful display. Despite its impressive features, it is also relatively inexpensive.
Check Price
Specifications and Dimensions
Screen size: 13.3″ diagonal •
Dimensions (W x D x H): 29.7 x 20.9 x 1.69 cm •
Weight: less than 1kg •
Display resolution: up to WQXGA (2560×1600)

Advantages and Disadvantages of Lenovo Laptops
Advantages of Lenovo Laptops
Affordability: Lenovo laptops are nearly half the price of similar laptops from other brands, with one or two additional features. Lenovo laptops are offered in a variety of configurations, ranging from everyday use to high-end performance (1).
Longer battery life
Versatile: Lenovo offers a wide range of laptops, ranging from powerful laptops for digital design and gaming to ultraportable business laptops.
Support Service: Lenovo has service centers in a number of countries around the world, making it easy for customers to get the support and service they need from anywhere in the world.
Innovative: Lenovo laptops have seen significant performance improvements. Their visuals are more advanced than ever before, because of the widespread use of powerful GPUs and processors.
Disadvantages of Lenovo Laptops
Longevity: Lenovo laptops are not very durable and rarely last more than two years.
Uninteresting Design
Illustrations are not as sharp compared to competitors
The Lenovo Flex 5
The Lenovo Flex 5 is one of the most popular Lenovo laptop models.
The IdeaPad Flex 5 (14, AMD) features small bezels on four sides for a sleek, contemporary look—and more real estate to enjoy the FHD screen. It also has a physical shutter that you can use to secure and protect your webcam. AMD RyzenTM 7 5700U Mobile Processor, AMD RyzenTM 5 5500U Mobile Processor, AMD RyzenTM 3 5300U Mobile Processor are the processors available.
Check Price
Specifications and Dimensions
14″ FHD Touch Screen display

AMD Ryzen 5 5500U

16GB RAM

256GB Storage

AMD Radeon Graphics

Windows 11 Home

Conclusion
Both the HP and Lenovo laptop brands are economical and offer benefits in various areas of life; for example, the Lenovo is better for gaming while HP is better for academic purposes. The decision between Lenovo and HP is made based on the purpose and usage requirements. In general, HP laptops perform better in terms of monitor, display, and resolution. Their screens are stunning and crystal clear, making them a better choice for people searching for a high-resolution monitor screen.