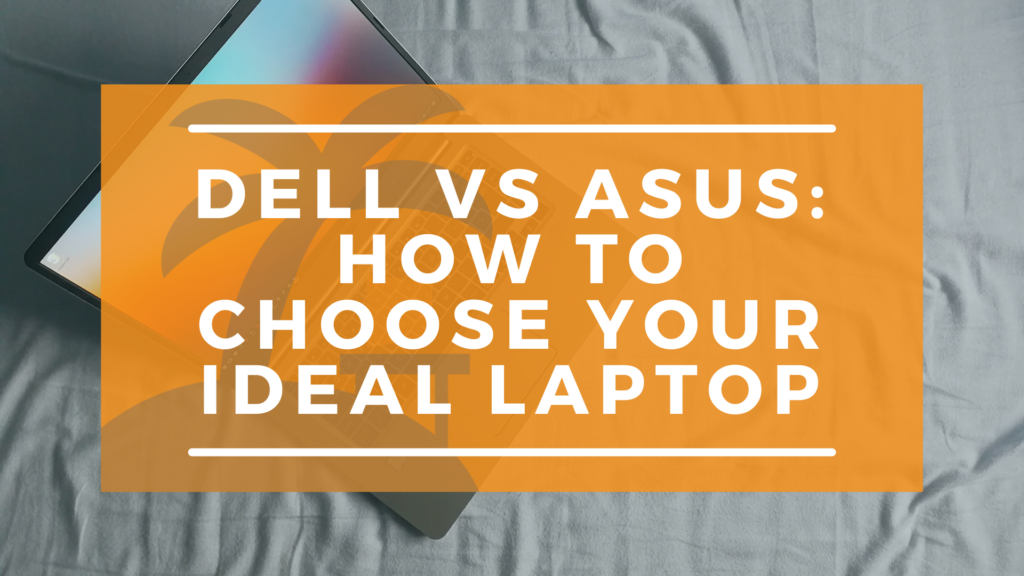 Asus is a multinational Taiwanese computer and phone hardware and electronics business headquartered in Taipei's Beitou District. As of January 2021, Asus is the world's fifth-largest PC seller by unit sales. Although Asus may not be the first name that springs to mind when thinking about top laptop manufacturers, new product releases such as the ROG Zephyrus, ASUS TUF, and ASUS ROG STRIX are now vying with flagship products from HP and Dell.
Dell, on the other hand, is an American corporation that designs, manufactures, sells, repairs, and maintains computers and related goods and services, and is owned by Dell Technologies. Michael Dell founded the company in 1984, and it is now one of the world's top technology corporations. Dell is a well-known and well-established brand that has garnered recognition and trust by consistently producing high-quality low-budget, medium-budget, and high-end laptops.
Dell vs Asus
Here are a few factors to think about while deciding between Dell and Asus:
Budget
At the low-budget, mid-range, and high-end levels, the Asus brand has a lot of good laptops. When compared to a Dell laptop with identical features, these laptops are significantly less expensive, which could be attributed to a variety of variables such as geographical location, brand name, and so on. In terms of price, the Asus brand offers more inexpensive costs for comparable quality, whilst Dell maintains a consistent level of quality and performance.
Aesthetics and Design
Dell laptops are noted for their quality feel and design, as well as their durable appearance and solid metal construction. Asus laptops, on the other hand, are known for their cutting-edge technology, as well as their lightweight and portable PCs. Asus laptops are durable and typically combine innovation with a high-quality build, providing users with a good value for their money.
Performance
Regardless of the activity performed by the computer, the performance of a laptop is critical; on the lower end, the Dell brand appears to deliver higher quality and more features than the Asus. The Dell delivers a decent blend of performance and price in the mid-range. When compared to its Dell competitors, the Asus, on the other hand, provides stronger graphics in the mid-range. Asus laptops in the mid-range also deliver excellent value for money.
The Dell Alienware series is a beast of a computer when it comes to high-end laptops, and some may argue that it is the best performing high-end/gaming laptop on the market. However, while the Alienware performs admirably, the fans can be annoying when they start making noise, and the cooling system is inadequate.
After a lengthy period of use, the laptop begins to heat up. The Asus ROG STRIX, on the other hand, is incredibly small and features upgraded fans, variable fan settings, and tunnels that ensure the fans are clean and dust-free, resulting in smoother overall performance.
Advantages and Disadvantages of Asus Laptops
Advantages of Asus Laptops
Asus is a good brand, so you can't really go wrong with any of their products. The majority of Asus PCs have high-resolution screens that give excellent graphics for all of your images and videos. Gamers, graphic designers, and regular users who enjoy looking at pictures and watching movies would appreciate the screens.
These machines are also incredibly adaptable. Asus has a variety of devices that may be used as laptop computers or tablets. The keyboard pops off the rear of the laptop thanks to hinges, leaving you with an extremely portable tablet computer.
Asus also makes PCs that are compact and light for the most part. This enables you to transport the laptop from one location to another with ease and without risk of it being dropped.
You may set your trackpad to react to specific finger movements. To signify a right-click, for example, you can tap it with two fingers at the same moment. If you want to make navigation on your laptop easier, you may set the trackpad to respond to a variety of multi-touch gestures.
Disadvantages of Asus Laptops
When you disconnect the computer from the keyboard and try to turn it into a tablet, some of Asus' 2-in-1 laptops have trouble switching from portrait to landscape mode.
Many tablet-conversion models lack CD/DVD drives, which can be inconvenient for people who enjoy playing CD-based computer games.
Because some of these computers are top-heavy, you must be cautious when holding them because they may tumble over.
A few models have a battery life of only 4 to 5 hours, which is inadequate for a high-performance, multi-purpose laptop.
Asus VivoBook 15
By far the most popular Asus laptop is the Asis VivoBook 15. Like some of Asus's other budget notebooks, the VivoBook 15 manages to give a luxury design befitting a notebook twice its price. Given the pricing, a laptop with a 15.6-inch screen is also a pleasant surprise in terms of total size and weight.
Check Price
Specifications and Dimensions
Intel Core i3-1005G1 processor
Intel UHD Graphics
16 GB RAM
128GB SSD storage
15.6-inch 1920 x 1080 display
Dimensions: 14.1 x 9.2 x 0.8 in.
3.7 pound weight

Advantages and Disadvantages of Dell Laptops
Advantages of Dell Laptops
Pros of Dell Laptops; Low Pricing and Market Range Dell computers are known for their low prices and market range. Whether you need a basic, mid-range, or high-end computer, the Dell product line has something for you. Dell also has lower prices than its competitors on a regular basis across the board.
Dell maintains its pricing low by using an innovative, efficient build-to-order method and having a small retail presence to reduce inventory expenses.
Innovative
Dell is known for its cutting-edge design, electronic commerce, supply chain management, and low-cost manufacturing. Only through creative thinking is it possible to have such a wide range of product options and price points.
One of Dell's primary advantages is that customers can customize their computers. Customers aren't restricted to a set of possibilities. They can choose from a variety of standard models and customize them as they see fit.
Repairs & Technical Support
Dell, as you may know, is a leading brand in computers and technology with incredible support service from the company and independent providers. They also have fantastic live customer service to respond to any question or query and even provide on-site service for some of their more premiere products, such as Alienware computers and laptops.
Warranty
All Dell computers come with a one-year warranty. This warranty can be extended by up to five years for a fee which can be found on their website. Should you need to return anything, Dell will cover the costs, including shipping.
Disadvantages of Dell Laptops
Screens
Users of computers are spending an increasing amount of time in front of their screens. Unfortunately, unless the screen comes with an eye-protecting coat that emits less blue light, too much screen time can be harmful to their eyesight. The eye-protecting coat is a high-tech display feature that makes it safer and more comfortable to spend long periods of time looking at a computer screen. It is only available on high-end computers.
Quality in Design and Construction
Dell compromises on construction quality due to its concentration on having the lowest pricing in some of their more affordable lines. Its low-cost items are typically made of plastic rather than metal. Metallic structures are more durable and pleasing to the eye. Dell computers are also known for being huge, which goes against the current trend of slim, light laptops. If you have to carry your laptop around a lot, it can put a strain on your shoulders, arms, and back.
Battery Life
A constant, reliable power source is required due to the quantity of work and life that is dependent on laptops. While Dell's high-end models, such as the Dell Latitude, offer an exceptional battery life of 16 to 18 hours, many Dells have low battery life when compared to other manufacturers' devices.
Dell Inspiron 16 Laptop
The Dell Inspiron 16 has a bright 16-inch display and a solid performance from its Intel Core i7-11800H processor and RTX 3050 GPU. It also has a decent battery life and a decent battery life (1). The Dell Inspiron 16 isn't one of the greatest laptops on the market, but it's a fantastic value for money.
Check Price
Specifications and Dimensions
Intel Core i7-11800H processor
Nvidia GeForce RTX 3050 GPU
16 GB RAM
512GB SSD storage
16-inch, 3K, 16:10 display
Dimensions: 14.0 x 9.7 x 0.70.8 in
4.4 pound weight

Conclusion
ASUS displays, on the whole, have better motion handling than Dell monitors because they are more gaming-oriented. Dell offers a bigger selection of monitors, some of which are larger and have higher pixels, making them better suited for multitasking.
Finally, the laptop you choose will be determined by your budget, the laptop's intended usage, and other factors, but whichever brand you choose, you should expect an acceptable degree of quality and performance for your money.