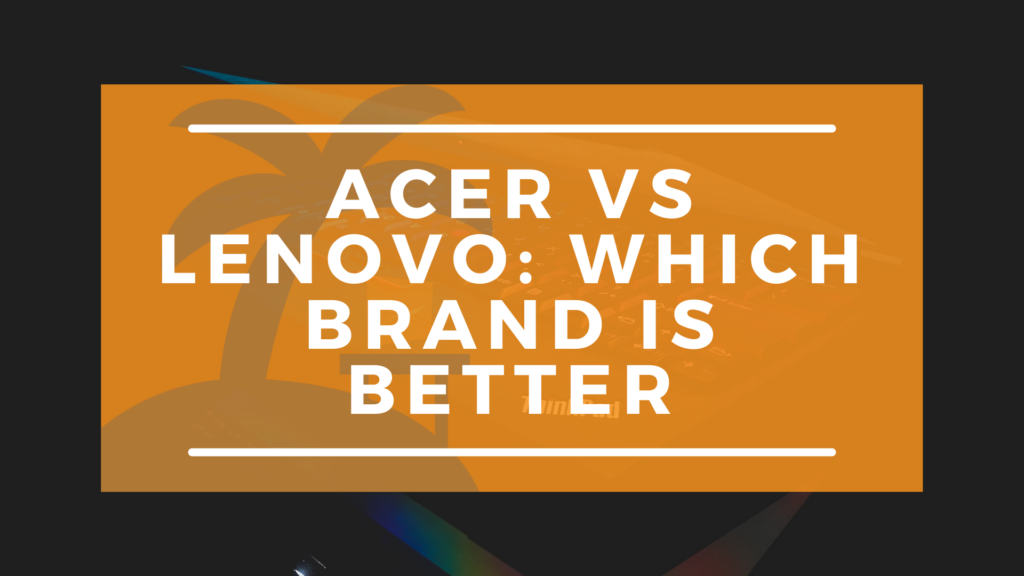 No matter how long you have been paying attention to computer brands, you should know these two giant names. If you are curious to know a little bit about them, we have all you need right here!
Let's Get to Know the Brands
Acer
Acer Inc., not to be mixed up with Asus laptops, is headquartered in Xizhi, New Taipei City. Acer is a Taiwanese multinational hardware and electronics firm focusing in advanced electronics technologies. Desktop PCs, laptop PCs (clamshells, 2-in-1s, convertibles, and Chromebooks), tablets, servers, storage devices, virtual reality devices, displays, smartphones, and peripherals, as well as gaming PCs and accessories under the Predator brand, are among the company's offerings (1). As of January 2021, Acer was the world's sixth-largest PC seller by unit sales.
Lenovo
Lenovo is a Chinese-American global technology firm that designs, manufactures, and markets consumer devices, computers, software, business solutions, and related services. Desktop computers, laptops, tablet computers, smartphones, workstations, servers, supercomputers, electronic storage devices, IT management software, and smart televisions are among the company's products.
IBM's ThinkPad business laptop line, the IdeaPad, Yoga, and Legion consumer laptop lines, and the IdeaCentre and ThinkCentre desktop computer lines are among its most well-known trademarks. Lenovo is the world's largest personal computer company by unit sales as of January 2021.
Lenovo vs Acer
What to Think About When Choosing Between Acer and Lenovo:
The finest laptop is one that is within your budget, comes with a guarantee, and offers features that are appropriate for your productivity or leisure needs.
Budget
Acer laptops are typically constructed using less expensive materials and components than Lenovo laptops, making them less expensive.
The Aesthetics and Design
The Yoga 720 and the ThinkPad, for example, are both exceptionally slim and innovatively built Lenovo computers. Acer is known for its mobility. The Acer Swift 5 is incredibly light, making it great for anyone who enjoys traveling. Predator 17 is more stylish because of its brilliant red accents. The majority of Acer laptops, on the other hand, are absolutely essential.
Performance
Lenovo is known for producing high-quality laptops, which are required to operate properly. One of the most powerful gaming laptops is the Lenovo IdeaPad 3i. Acer laptops of superior quality, such as the Acer Predator Tritan 500, are also available, although at a higher price.
Lenovo laptops, on average, outperform Acer laptops in terms of performance. The Lenovo ThinkPad X1 Carbon (11th Gen Intel Core i5/Core i7, RAM options 8GB/16GB/32GB, and Storage of 256GB/512GB/1TB) is compared to the Acer Swift 3 (11th Gen Intel Core i5/Core i7, RAM options 8GB/16GB/32GB, and Storage of 256GB/512GB/1TB) (2020, AMD Ryzen 7 4700U, RAM of 8GB and 512GB storage).
Laptops from Acer:
There are many advantages and disadvantages to Acer laptops. We've compiled the top things that we noticed specifically about their laptops.
Advantages
Advantages of Acer Laptops
Cost-effective: Acer has a laptop for every budget. In the laptop market, it is quite competitively priced.
Customer Support: Acer's phone agents are always ready to assist customers with their problems in a reliable and timely manner. The technical help provided by Acer is commendable.
Product range: The company produces a wide range of products, including notebooks, netbooks, PDAs, desktops, display monitors, and software applications. Consumer magazines and websites frequently feature the company's products.
Acer Predator-gaming Beast: The Acer Predator is the best gaming laptop on the market, and it's giving its competitors a run for their money. Acers gaming battlestations include futuristic sliding keyboards and rotating displays, among other revolutionary features.
Disadvantages
Somewhat bland designs. Their aesthetic is nothing sleek or innovative.
Low quality build. While Acer does have a solid line of products, their lower budget laptops tend to break or require maintenance quite frequently or more easily.
Performance does not compare to other brands. While their laptops perform well, there are many other brands that easily out perform them.
Swift 3 by Acer
The Swift 3 is the ideal laptop for working on the go. It's slim, light, and stylish. The metal chassis has a robust feel to it. The keyboard deck is sturdy, and the lid is rigid, providing good protection for the display. The chassis has very little flex, and the display hinge is devoid of screen wobble.
Check Price
Specs
IPS LED-backlit display with high resolution (1920 x 1080 resolution; 16:9 aspect ratio)
Full-screen size: 14″
Windows Hello with Fingerprint reader

Lenovo Laptops
Lenovo isn't a generic brand. Lenovo produces the ThinkPad, which is by far the most well-known laptop system for enterprises and corporations around the world. Lenovo's devices are also superior due to internal roll cages, the Active Protection System, the Enhanced Experience, and other features.
Lenovo Laptops' Advantages and Disadvantages
Advantages
Affordability: Lenovo laptops are nearly half the price of similar laptops from other brands, with one or two additional features. Lenovo laptops are offered in a variety of configurations, ranging from everyday use to high-end performance. Regardless, such computers are among the most affordable laptops available anywhere on the planet.
Longer Battery Life: It has a battery life that is unheard of in other brands.
Versatile: Lenovo has a wide range of laptops to choose from, ranging from powerful laptops for digital design and gaming to ultraportable laptops for people on the go.
Support Service: Lenovo has service centers in a number of countries around the world, making it easy for customers to get the support and service they need from anywhere in the world.
Innovative: Lenovo laptops have seen significant performance improvements. Their visuals are more advanced than ever before, because to the widespread use of powerful GPUs and processors.
Disadvantages
Longevity: Lenovo laptops are not very durable and rarely last more than two years.
Uninteresting Design
Illustrations are somewhat low quality.
Legion 5i by Lenovo
Buy on Amazon
The Legion 5i is designed to keep you in the game no matter where life takes you. It has a longer battery life and a smart dynamic discharge power management system, and it's all powered by a sleek and slim power adapter that can charge you from 0 to 100% in under 30 minutes with Rapid Charge Pro.
In a clean, simple design, the Lenovo Legion 5 combines unrivaled flexibility with great power, providing a wealth of performance options for any gamer. This uncompromising gaming laptop improves your favorite AAA games with breathtakingly lifelike experiences via a high refresh screen, thanks to AMD Ryzen 7 processors with 8 ultra-responsive cores, NVIDIA GTX 1660Ti graphics, and 16 GB DDR4 compatible memory. The 1080p display provides exceptional clarity and sharpness.
Specifications for the Legion5i include the following: Display resolution: 1920 x 1080; Screen size: 15-inch IPS panel; Dimensions: 14.3 x 10.22 x 0.93 inches; and Weight: 5.07 pounds.
In general, Lenovo laptops perform better in terms of monitor display and resolution. Their screens are stunning and crystal clear, making them a better choice for people seeking a high-resolution monitor screen.

Conclusion
Both brands produce high-quality, low-cost computers, but which one to choose depends on the functionality you require. Because of its elegant style and adaptability, the Lenovo is a solid pick for everyday and business use, but the Acer predator series shines out for gaming.