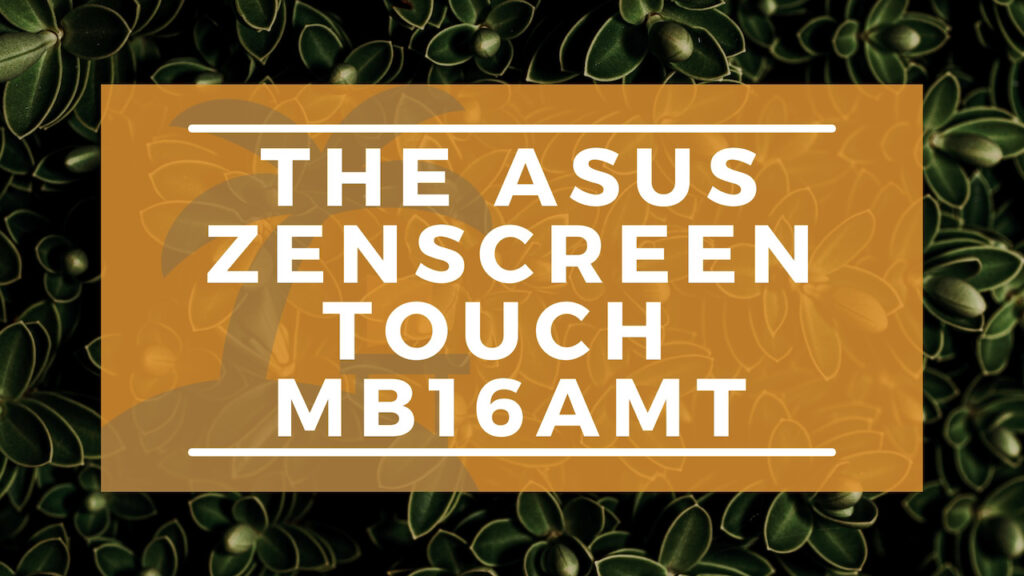 The world is evolving rapidly, and long gone are the days when working professionals could do without portable monitors. These monitors are enormous assets for ease in workflow, desk efficiency, and speed up the entire process.
For that reason, brands like ASUS keep on reinventing themselves and thus provide top-notch gadgets for the masses. One of such unique gadgets is the Zenscreen Touch MB16AMT, a magnificent prospect that is changing the digital workspace as we know it.
Here, we will be diving neck-deep into what makes the ASUS brand so revered in the tech industry. We will then give you a brief rundown of the specs and dimensions regarding the device. Also, we will show you a thing or two about the design and connectivity features of this signature ASUS Portable Monitor.
Then, further along, the line, we will delve into the display and performance of the product. There's a lot to cover, so let's get right to the crux of the matter.
Overview of the ASUS Brand
The ASUS Brand is an electronics company famed for its wide array of products that have perpetuated the industry over the past decades. This brand has developed a reputation for releasing some of the most durable, trendy, and efficient gadgets over time. ASUS has stores worldwide, and it has come a long way from its humbler beginnings in the late 1980s.
ASUS as a brand has developed a particular reputation for its monitors, and a fine example of such is the Zenscreen Touch MB16AMT. This unique and versatile device has changed how people view the brand for good, and that's not all. People love purchasing gadgets from the ASUS Brand because this is one company that doesn't rest on its laurels. If you think we are economical with the truth, check their official website in the next couple of months.
Design and Connectivity
ASUS designers hardly ever leave a stone left unturned in the design room, and it is crystal clear that it didn't lose form while creating the Zenscreen Touch MB16AMT. This device is a work of art, and it is yet another masterful addition to the ASUS Brand family. The aesthetics are top-notch, the design is fittingly elegant, and the interface is next-level excellent.
As regards connectivity, just like with most other ASUS products, the Zenscreen Touch MB16AMT assures ease of connectivity thanks to accessible sources. The sources that we are talking about are the USB Type-C and Type-A sources, sources that most computer users are aware of. You don't have to look too far to get the necessary connections; that's part of the perks of choosing ASUS.
Check Price
Display and Performance
With a maximum screen resolution of 1920 x 1080 Pixels, the is certainly no slouch in the display department, and it measures up to some of the best in the industry. This device is further stacked with high contrast settings, versatile color displays, and an easy to enjoy interface.
Also, it's important to note that the Zenscreen Touch MB16AMT has a laudable 60 Hz refresh rate, making it an asset for gamers all over the world. That refresh rate goes a long way in ensuring that the pixels come out correctly, the graphics remain in sync, and the monitor operates at an optimal status. It's no wonder why the Touch MB16AMT has become a favorite amongst graphic designers; these specs aren't all too common in the industry.
Specs and Dimensions
Screen Size – 15.6 Inches
Resolution – Full HD
Item Weight – 1.98 pounds
Refresh Rate – 60 Hz
Dimensions – 19.1 x 12.01 x 2.99

Final Thoughts
Here are a few pros and cons we gathered about the product to give you some more information:
Pros:
It is a fantastic graphics monitor.
Its sleek design makes it easy on the eyes.
It is remarkably lightweight, making it super portable.
Con:
The durability factor leaves a lot to be desired.
ASUS has been in the top-notch electronics brand conversation for a while now, and it's clear that they aren't ready to lose that vantage spot. The Zenscreen Touch MB16AMT is a statement monitor showing that ASUS hasn't lost its touch despite years of being in the upper echelon.
This device is another example of electronics at its finest, as there's so much to savor. We are pretty sure that the Zenscreen Touch MB16AMT is elevating gaming, graphics, and artistic endeavors as we speak.