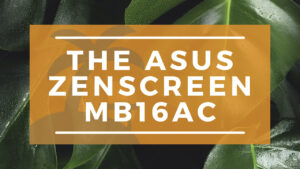 The idea of ​​carrying a separate display with you is both tempting and frightening. People will not want to use an alternate 15.6-inch display screen on the plane two display their laptops.
You can take a second monitor with you and put it in your bag. ASUS' new ZenScreen MB16AC has a solution.
Overview of the ASUS Brand
In essence, The ASUS ZenScreen is simple. Take a laptop, take down the entire computer part, and keep the monitor. Traditionally, the problem with this situation is how to power such devices and have display connectors. You can use a separate AC wall plug, but this will reduce mobility-of course, you can carry it with you, but you also need a wall jack.
Design and Connectivity
ASUS uses a narrow display bezel on the three sides (top and sides) of ZenScreen. Understandably, the bottom is thicker to accommodate the Type-C connector, the power button, and the two buttons on the left-one Used for the menu; the other is used to switch between viewing modes quickly.
Like all display buttons in the control menu, it takes a few tries to understand the input and up/down system.
The thickness of the ZenScreen MB16AC is only 7.62 mm, which is very thin, but it does become thicker with Smart Case, which is used to support and protect accessories during travel.
Check Price
Connecting and Powering
ZenScreen MB16AC is very simple. If the laptop supports a USB Type-C connector with DisplayPort over Type-C, you need to plug and play. The ZenScreen MB16AC starts immediately; you don't need to install any other software.
The laptop does not need to support Thunderbolt 3. For USB Type-A devices, users need to connect the converter to the Type-C cable. In addition, you should download a separate driver from ASUS. Interestingly, the Surface Pro seems to pull the DisplayPort through the Type-A driver from Windows Update without user intervention.
Display and Performance
ZenScreen MB16AC only produces about 200 nits of brightness. Compared with most maximized laptops, ZenScreen's brightness is only about half. Nevertheless, I won't describe it as dull; I just don't plan to use it outside in the sun. The lack of extreme brightness ensures that it does not consume too much power from the connected laptop.
The color accuracy is good, with a drop of about 74% sRGB. That is poor color accuracy for photo and video editing, but it is suitable for secondary screening in productivity applications or watching TV or movies.
The ZenScreen MB16AC is also quite shiny. When combined with ceiling light, if the screen of the connected laptop is matte, it may cause problems with long-term use.
The text on ZenScreen MB16AC is prominent, and the brightness does not even ooze out of visible light. The viewing angle as an in-plane switching (IPS) technology is perfect.
Specs and Dimensions
Panel size – 15.6′ (39.6cm) 16:9
True resolution – 1920×1080
Connection Type – DisplayPort over USB-C (USB-C to USB-C)
Aspect – 14.6 x 8.9 x 0.3 inches (371 x 226 x 7.62 mm)

Final Thoughts
Here are a few pros and cons we gathered about the portable monitor for you to consider:
Pros:
Excellent display with acceptable brightness.
It is very portable and light.
Multifunctional smart cover provides good protection.
Cons:
Smart covers may be floppy and bulky.
With the ZenScreen MB16AC, ASUS has launched a comfortable and lightweight portable monitor. This ZenScreen might not appeal to professionals: the limited RGB color space is not covered at all and the glare prevents any use on terraces.
On the contrary, the contrast is very high, which is very suitable for video conferencing, photo conferencing or presentations indoors or at night. In short, ZenScreen MB16AC is useful hardware at a reasonable price. However, the biggest disadvantages are the low light and are therefore not suitable for outdoor use.