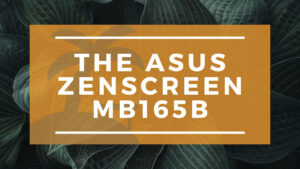 Top-notch portable monitors shouldn't be a luxury; they should be a necessity, which the ASUS brand has constantly showcased. This electronic brand has always had its users' welfare at the back of its mind, and it's no surprise that the Zenscreen MB165B exudes such perfection.
A remarkable gadget with few flaws, this Zenscreen monitor  is a fascinating prospect for office workers, artists, and anyone that falls in between. Here, we will be discussing the reputation of the ASUS brand, looking into the design and connectivity features, touching on the display, and going through the dimensions. The Zenscreen MB165B is an exciting proposition; let's delve into it, shall we?
Overview of the ASUS Brand
ASUS does not need any introduction, as it is one of the household names in terms of electronics worldwide. It is a brand that invests a premium in ensuring that customers get their money's worth. ASUS devices are easy to spot, as they are some of the most durable, flexible, and futuristic in the industry.
Many people are fans of the ASUS brand for the above reasons, and they are pretty much comfortable monitoring the release timetable. ASUS is an Asian-founded electronics brand that has spread its tentacles worldwide, and it has stuck around for a couple of decades. It's not much of a surprise, as devices such as the Zenscreen MB165B are bound to capture the public's attention.
Design and Connectivity
Design is an essential component in every electronic device, and ASUS as a brand never ceases to amaze. The Zenscreen MB165B is an aesthetically aware device that pays attention to detail. This product has a black, sleek back that is amongst the smoothest in the industry. ASUS prides the Zenscreen MB165B as the world's slimmest and lightest USB monitor making it a must-have for tech enthusiasts.
Connecting your Zenscreen MB165B isn't a big deal, as it comes with a handy USB 3.0 cable that can make the connection very easy. You can connect your device with other phones, laptops, and a host of different devices. What's more, you can replace the USB 3.0 with the ASUS store, and you don't need to worry about rejection, as that cannot occur.
Check Price
Display and Performance
Zenscreen MB165B sure is easy on the eyes, as it has a display that pretty much blows the competition out of the marketplace. Just take a look at the high-definition pictures that you can savor with the purchase; it's no wonder why graphic enthusiasts are enormous fans.
That is primarily thanks to the 76 Hz refresh rate, which hits the sweet spot for artistic excellence. The contrasts are state of the art, the colors come out nicely, and you don't have to strain your eyesight to see the moving pictures.
Also, the overall performance of the Zenscreen MB165B is very laudable, and it doesn't leave much to be desired. The new iterations of ASUS laptops tick many boxes, and the Zenscreen MB165B is responsible for some of the best reviews.
Specs and Dimensions
Screen Size – 15.6 Inches
Resolution – 1366 x 768
Display Type – 4K
Refresh Rate – 76 Hz
Dimensions – 9.3 x 14.9 x 0.3 inches
Final Thoughts
Here are a few pros and cons we gathered on the product to provide you with a little more information:
Pros:
It has a world-class external display.
It pays close attention to detail.
It is incredibly portable.
Cons:
They could improve the brightness feature.
ASUS has been around for decades, and it has stuck around longer than some of the more household brands. The reason for this durability happens to be the innovation that it virtually assures, and the Zenscreen MB165B is a prime example.
This device is an amazing one indeed, and we recommend it to users looking for an all-around monitor experience.