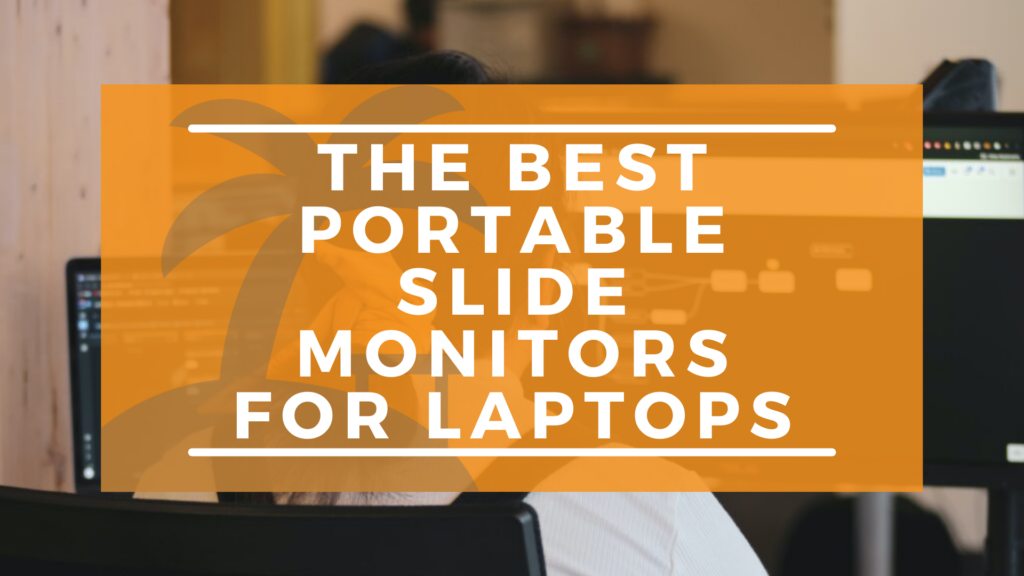 Technology has played a significant role in improving the way work gets done today, and there are hardly any limitations in getting a job done in record time. One of the essential gadgets contributing to this improvement is the laptop, a gadget that brings a whole new perspective to versatility.
Laptops are a significant help to gamers, office workers, and people looking to get the job done in record time. However, these gadgets still need extra accessories to improve their usefulness, and that's where the portable slide monitors come into play.
Portable slide monitors are pretty different from the usual portable monitors, as they bring a fresh perspective and better features to the tech industry.
Here, we will be describing the benefits of having a monitor for remote work or travel and why it is essential to have one pretty handy. We will also enlighten you on a couple of top-notch portable monitors that would benefit anyone in possession of laptops.
There are so many ways to use a portable monitor, and here we will be showing you some of the best ways to get the job done. Such portable monitors come in different shapes, sizes, and functionalities, and it only fits that we give you an extensive tour around the best in the market. So without much ado, let's get down to the crux of the topic!
The Benefits of Having a Portable Monitor
Portable monitors are a significant plus for anyone looking to get work done and travel with a trusted gadget companion too. Here are some of the major pros that come with making such a purchase.
1) Versatility
Portable monitors are amongst the most portable gadgets around, and they happen to be one of the more popular commodities in the tech world. These beauties can be used to play all sorts of games, as they have high resolutions that are perfectly compatible with even the most sophisticated games out there.
They are also impeccable assets for watching movies, as their live streaming feature is a must-have in this internet age. Furthermore, you can also use them for presentations at work, design graphics for clients, and host other unique functionalities.
2) Portability
Portable monitors stay true to their names, and they tick the portability box quite nicely, giving the user a proper companion for any trip he or she undertakes. Lightweight portable monitors are easier to carry and even help to prevent back pain after carrying them for a prolonged period.
These gadgets are a fascinating prospect to purchase, as their portability means that you can comfortably take them for business trips, company meetings, and even a night out with friends, without feeling awkward or some way.
3) Durability
The typical portable monitor is pretty durable, and they are known to last for numerous years after they are first purchased. Portable monitors are known to withstand multiple wears and tears, as they are amongst the most rugged tech gadgets in the industry.
As long as you purchase from a trustworthy retailer, you will enjoy your portable monitor for many years to come, with little or no need for repairs or constant fixing.
The Best Portable Slide Monitors Around
Here are five of the best portable slide monitors available in the market.
1) Trio Max Portable Monitor for Laptop
A portable monitor from one of the best modern tech providers, the Trio Max Portable Monitor for Laptop is a trusted monitor that fits the bill across the board. In addition, this portable monitor has a host of top-notch features, which are an asset for any computer user or tech enthusiast.
Check Price
First of all, there's compatibility, as this portable monitor is compatible with Windows, Mac, Linux, Chrome, Android, and Nintendo Switch, as well as Type C phones that support full-featured output. Then there's the fantastic design, which is a breath of fresh air in the industry, as the slim, light-weighted, portable design allows you to take your monitor-upgraded laptop anywhere that you desire.
This portable monitor is a fine one indeed, and it represents excellent value for money to potential purchasers.
2) Mobile Pixels Trio Portable Monitor for Laptops
Another top-notch product from the continually improving Trio Brand, the Mobile Pixels Trio Portable Monitor for Laptops, leaves no stones left unturned in customer satisfaction, and that is evidenced by the remarkable work done with this gadget.
Check Price
This portable monitor reimagines how portable monitors should be seen and ticks most of the boxes for an array of laptop owners. It has incredible features, such as the 12.5" 1920x1080P IPS screen, which offers rich and vivid colors from all viewing angles. Also, the upgraded plug and play solution makes for a multiple monitor setup, which is a great asset in this technological age.
Last but not least is the screen protector, which is made possible thanks to a rigid metallic brushed case that withstands the wear and tear that comes with transporting your laptop from one location to another.

3) Teamgee Double Portable Monitor for Laptop
A portable monitor from a brand that has a lot to prove in the tech industry, the Teamgee Double Portable Monitor for Laptop is one of the finest new portable monitors around, and that's thanks to an array of reasons. This portable monitor is punching well above its weight category in the tech industry, thanks to various features.
Check Price
First off is the compatibility it assures, as this monitor can be connected and used with USB Type-C, Type-A, Windows, Mac, Chromebook laptops, Android, Switch, amongst others. Then there's the ease of use, as these portable monitors slide easily into the back of your laptop which is covered by a hard metal case for durability. It easily attaches to the back of your laptop and you are instantly working with three screens.
Furthermore, it provides a staggering four usage modes, including full 270°rotations and 180°display mode to share the same laptop screen; slide to any side of the laptop display; choose horizontal or vertical viewing. This portable monitor might not be a household name yet, but it's well on its way to being one.

4) New SideTrak Swivel Attachable Portable Monitor for Laptop
SideTrak has been doing its homework for a while. Recently, it has been creating some of the finest tech inventions, with the New SideTrak Swivel Attachable Portable Monitor for Laptop being the latest addition. This portable monitor is no slouch in the industry, and that's mainly as a result of some fascinating features.
Check Price
We will start with the emphasis on portability, as this monitor has a solid magnetic connection that allows you to work with two screens whether you are on a couch, limited by table space, or on the go. Also, it is pretty compatible, as you can use it with an array of devices such as Mac, PC, Chrome, PS4, Xbox, and Switch.
Last but not least, you can adjust this top-notch gadget to your specification, as it can be done by rotating the screen, adjusting the brightness, or using the kickstand. The choice remains yours, and there's a lot to savor.

5) Duex Pro Portable Monitor
Mobile Pixels has made it a duty to furnish the tech industry with an array of aesthetically pleasing gadgets, with the Duex Pro Portable Monitor being the latest in the stable. This lovely prospect has many remarkable features to enjoy, and we would highlight them in an instant.
Buy on Amazon
First to note is the versatility, as you can use this monitor for gaming, office use, graphic designing, and a host of other valuable tasks. What's more, it is compatible with a host of devices not limited to Windows, Mac, Linux, Chrome, Android, and the Nintendo Switch.
Thus, this portable monitor is an excellent choice for people looking to get an innovative brand that offers significant value for money.

Final Thoughts
A lot of thought goes into purchasing the perfect portable slide monitor, and we have done most of the work for you with this piece. We have shown you some of the benefits that come with having a portable monitor pretty handy.
We have also given you a comprehensive list of some of the most excellent portable monitors on the market, with each of them offering great value for money. There's a lot to take in, but if you can diligently do that, there's no reason why you won't get the portable slide monitor of your dreams!