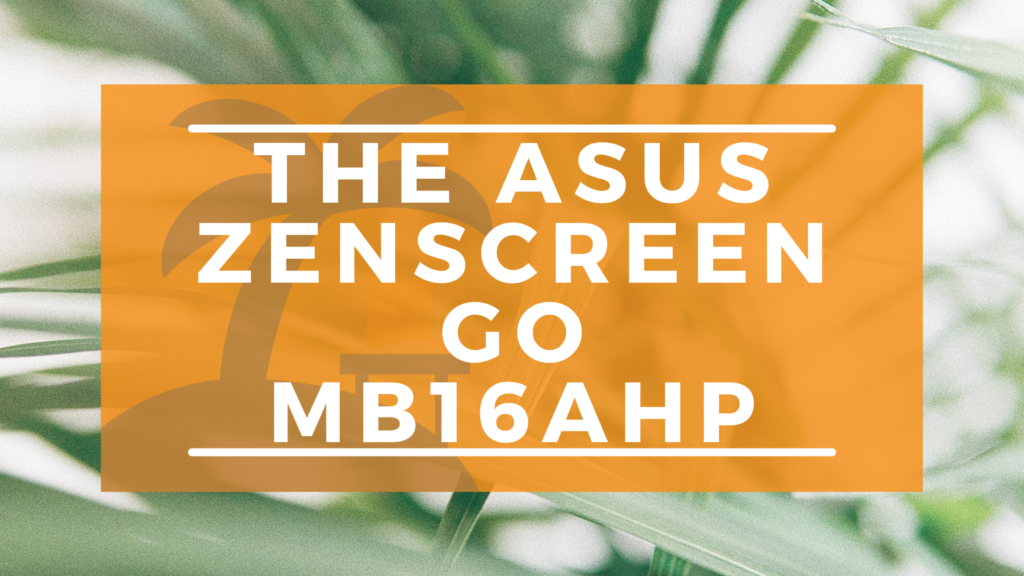 ASUS, a major domestic manufacturer, has been working in this field for several years. Compared with the previous generation product ZenScreen MB16AHP, the latest model, ZenScreen Go MB16AHP, has newly added a built-in battery and has become a more mature mobile terminal. The name of the product has also changed from ZenScreen to ZenScreen Go.
Overview of the ASUS Brand
ASUS ZenScreen Monitors are a part of the general ASUS Brand. The ZenScreen series are highly regarded in the monitor industry today, thanks to the sleekness, and versatility that they virtually assure.
They are a favorite for computer users and tech enthusiasts worldwide for an array of reasons. This aspect of the ASUS Brand has given rise to numerous products, and we will be showing you its key features in a bit.
Design and Connectivity
The texture of the color box is quite good, and the front is simple and elegant. The upper left corner is the design award that this product has won. It includes two of the world's three primary design awards- the Red Dot Design Award and the IF Design Award. Japan's Good Design Award.
ZenScreen Go MB16AHP can also be used easily without a leather case-use. The included ZenScreen pen to insert into the smart home in the lower right corner supports the screen. Because it is purely mechanical support, even if the ZenScreen cell is accidentally lost, any tube of appropriate thickness can replace the ZenScreen pen as a support, which is quite convenient.
ZenScreen Go MB16AHP has USB-C and micro-HDMI connectivity, allowing you to display content from various devices, including laptops, smartphones*, game consoles, and cameras, providing a broader view for work or entertainment.
Check Price
Display and Performance
You can use it anytime, anywhere. For the convenience of genuinely portable devices, the built-in 7,800 mAh battery can support up to 4 hours of runtime. Support QC3.0 battery fast charging; charging speed is doubled compared to a standard adapter. To check the battery status, press the hotkey. When in DP alt mode, the brightness is set to 100%.
Also, with ASUS DisplayWidget, ZenScreen Go MB16AHP can automatically detect orientation and switch the screen between landscape and portrait.
The landscape mode is great for presentations and Excel worksheets, while the portrait mode can provide you with a perfect view of items such as documents, books, or mobile websites.
More so, the innovative foldable smart case protects ZenScreen™Go MB16AHP from dust and scratches. The cover is designed to be folded in a horizontal or vertical direction. There is also a bright pen hole in the lower right corner of ZenScreen™Go MB16AHP.
You can insert a pen to support the screen without using an intelligent cause. The current ASUS ZenScreen Go MB16AHP portable monitor can significantly improve the efficiency of using mobile phones and notebooks.
Specs and Dimensions
Panel size – 15.6 inches (39.6cm) 16:9 widescreen
Resolution – 1920×1080
Battery life – up to 4 hours in DP Alt mode
Net weight (estimated) – 0.86 kg

Final Thoughts
Here are some of the pros and cons we have gathered on this monitor for you to consider:
Pros
It has high definition display capabilities.
It has a fast charging feature.
It is an elegant and exquisite tool.
Cons
The durability feature should be worked on.
ASUS ZenScreen Go MB16AHP is very similar to the Asus ZenScreen MB14AC, but it has a built-in 7800 mAh battery, which means that it does not require power from the laptop. You can fold the supplied protective sleeve onto a stand or hold it with a ballpoint pen and use it in landscape or portrait format.
Although it has a high pixel density to display sharp images and text, its narrow color space, unfortunately, makes it appear washed out and not suitable for content creation.
It's great for games on the go, especially slow games, but it's not great for faster games because it has a 60Hz refresh rate, slower response times, and doesn't support frame rates.